Marcus Alan Matheny
Marcus Alan Matheny, 77, of Grant, Fl, finished his race and went home to the Lord on Wednesday, April 28, 2021.
On December 17, 1943, Mark was born to Virginia and Jud Matheny in Logan, Ohio, his boyhood town.
Mark Matheny, known to many by the nicknames "Stubbie," "Pops," or "Coach," attended Morehead State University on a football scholarship. His first coaching position was at Jackson, Ohio, where he developed lifelong friendships. He was a passionate Ohio State football fan and sports enthusiast.
He moved to Eau Gallie, FL in the early '70s from Jackson, OH. He taught and coached at Eau Gallie High School for nearly 40 years. The lives he touched were countless, and the nicknames he gave people were priceless.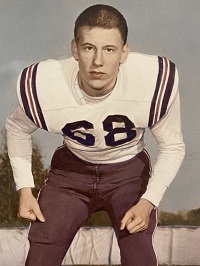 Mark loved everyone well. He judged no one and was a friend to all. He was a father figure to many of his players, even inviting some with difficult home environments, to live with him for seasons of time. He took time to encourage, praise, and assist those that others may pass by, from the custodians at school, to the ladies in the lunch room, to strangers at bus stops.
Mark had a magnificent sense of humor. Making his family and friends laugh was one of his greatest joys.
In the year 2000, Mark had a life-changing encounter with Jesus and came to know him as his Lord and Savior. He was baptized at First Baptist Church of Melbourne, where he gained a church family that he treasured deeply and served well. He shared with others about the Lord until the final moments of his life.
He enjoyed many hobbies, including playing tennis with the Space Coast League (SCTL), fishing, and spending time with his beloved family and friends in his retirement.
Mark is now home in his Father's arms, and we know he has heard the words of the Lord, "Well done, good and faithful servant!"
Survivors include his wife Angie, son Josh (Jenna), daughters Ginny Blythe, Megan (Scott) Wilson, Olivia (Marshall) Williams, grandchildren Emma, Ethan, Silas, Micah, Titus, Zeke, Angelina, Ava, Lane, and Bennett, a sister Lynn (Dave) Kantner, and nephews Ray and Cullen Beach. He was predeceased by his son-in-law Kevin Blythe.
A Celebration of His Life will be held on Saturday, May 8, at 4 pm at First Baptist Church Melbourne, with a casual outdoor reception following (*please bring a lawn chair for the reception). Anyone wanting to express sympathy is asked to consider the "Greater Things" Fund of First Baptist Church Melbourne.link
https://fbcmelbourneweb.myshelby.org/default.aspx?page=3424
The family would love for you to take a moment to share your fondest memory of Mark on the online guestbook below.

81 entries.
I will remember Coach Matheny for his smile and kind spirit. He was a gentleman and a friend to everyone he met. I had the pleasure of knowing him as a student -class of '74- and then again as my kids attended EGHS. My sincere condolences to his beautiful family. I know he is with his Father in heaven now.
Mark always had a smile on his face and seemed to genuinely love people. Ryan says that he was always joking around with him and he just made people feel like they mattered. He displayed the joy of the Lord for sure. He will be missed here but I'm sure his smile is bigger than it's ever been right now.
Going to miss you pops you were a great man and the obituary says it all you were loved by many and will see you in heaven one day soon brother love you. I do want to share one story with a family that my friend told me last night at dinner that when he was Coach Matheny he would go up to the people not paying attention in class and slap them on the back with a Eraser and them not knowing that he was and everybody laughed in class he was just a fun guy to be around
Dear Angie and Family, Our hearts and prayers go out to each of you…Mark meant the world to us, as Coach, mentor and friend. A gentle smile and a good heart. He touched many lives. Rest now Coach, see you on the other side…Love, Doug and Pam Connor
My interactions and memories of Marcus are just of his everyday kind nature and friendly smile. He made me smile every time we talked or even waved at each other across the room. He always complimented me and made me feel better about myself when I had those self doubts. His hugs were the best. He was so good to people no matter who they were, and was so willing to help others. Every Wednesday for years he picked up an elderly sister and brother and took them to Wednesday night super at church. He would get their drinks and sit and visit with them. He made them feel special and loved when many people overlooked them. That's how he was. He was one of the best deacons I had the pleasure to work with. The hole he leaves behind is huge! I'm so glad I saw him at Christmas when we were visiting so I got a big ole hug from him to remember. I'm so sad that he won't be here now that we're back. He is truly one of the best men I've ever known. Heaven is definitely sweeter and brighter with him there, and we were certainly blessed to have had him here while we did ♥️
EGHS Class of 1974: Coach Matheny was a great man who encouraged us to do our best. We stayed in touch through our time at West Point. I am saddened to hear of his passing but rejoice that he is now with God in Heaven.
May the God of all comfort and the Lord's promise of eternal life continue to bring peace, strength and love to all of the Matheny family. In HIS love, Nancy Caban
Marc was a friend who's glass was always half full instead of half empty. It was always fun and entertaining talking with him. I will always remember the weekend trips to Charleston, SC with he & my brother to see my nephew play at the Citadel football games, great times.My condolence to Angie and his Children. He will be missed by all that knew him, one of a kind for sure. Where does all the time go? Sorry I can't be here next Saturday, would love to see everyone and hear their stories about him. God Bless him and his Family.
I can see from all these entries that my perception of Coach Matheny was shared by many. His compassion and love for others was always evident. I have my own treasured srories that i have saved all these years. I had hoped to gain more of them as my brother had made contact with him at church recently. It had been my hope to wet a line with he and his fly fishing friends and had provided him with a few flies i had tied, through my brother. I am sorry to have lost the opportunity to thank him in person for encouraging me to do things i otherwise may not have. He was definetely one of the most memorable people i have ever known. I also remember his nicks for some of the guys. 'Strūch' and 'Ophelia' two memorable ones from 45 yrs ago( one of whom has already passed). And the way he would push up his lower jaw and affect a comical voice when he made funny comments. So many memories.. RIP, Coach. The world feels lessened by your loss. Condolences to all who loved him, especially his family.
Aquila brother from Morehead State University.
To all of Marc's family and friends, I was a co-educator with Marc, and my two girls had him as a teacher at EGHS. I will always remember that Marc had a ready smile for everyone and an infectious laugh that would turn anyone's frown upside down. I hope the happy memories that he leaves behind with you lessen the grief you are feeling now. We are all better having known him. Ellen Crume
I had the honor of working with Mark for over 20 years. He was a very special friend and colleague to me and others. He was a legend at EGHS to those he mentored. A wonderful sense of humor, a steadfast friend and a model for selfless behavior. Our paths have crossed many times as grandparents and he will be sorely missed.
You have meant so much to our family. Will always cherish our times together.
Mr Alan Matheny thank you for been you, I always enjoyed your hugs and the way you makes me feel to be a F B.C member the first time you see me you welcome me just like you know me before thank have may you R.I.P 😊😂❤🙏
Marc was a very special person. One of the best neighbors we ever had. He was always willing to help anyone in need. He was an excellent teacher, coach, & mentor to all. Our thoughts and prayers are with his family whom he loved so much. Remembering all the good times we shared in the old neighborhood.
Coach you are forever an Eau Gallie legend. I'll say this, you can ask many that have entered the hallways of Eau Gallie High School. Most will be able to tell you they knew coach Matheny. It didn't matter if you were a football player or not. Coach would get me out of Weightlifting Class to help him line the field on game days. We would talk during this time. Coach since my freshman year, Walking in the hallways I don't think I don't see you laughing or smiling with a student. You actually cared and would get to know what was going on in our life. If I was having a rough day in school I knew I could talk to you about it. Thanks for being there coach. This isn't goodbye it's see you again.
My prayers and condolences to the Matheny family. One the best memories with Coach I have is him taking me and 2 other lineman to a UCF football in his 2 door hatchback. We were so uncomfortable but the experience was everything and he made us laugh the entire car ride! You will truly be missed.
God speed to one of my "roomies" at Morehead. A very special person who lit up any room he entered.
Oh Marcus,we already miss you so much. Spending dinners every night with all of us at Marshall and Olivia's home, allowed us to talk about our lives growing up and share funny stories. You were such a good husband,father and grandfather, and Christian. You would ask complete strangers if they needed prayer for anyone, and people would open up to you, and we would all pray together. I guess the funniest storey would have to be our trip to see the Elk early one morning in North Carolina. About half way up the mountain road you called us on our cell in our car and said you were about to run out of gas in your car, and there were no gas stations around for miles. You kept saying we'll be ok, let's keep going. So we made it up to the field, and they were all there, Elk everywhere grazing, even males fighting and locking horns. Best day ever with you,but we still had the issue of getting down the mountain without enough gas. You headed down on fumes had us all convinced on those narrow roads for one vehicle, that you had enough gas...and you rolled in to the gas station at the bottom. We all cheered we made it, but I think now you just told us a storey to make our trip more exciting, like an adventure we would never forget. We laughed so hard at the stories you told us at the Cabin. That is why you are loved by so many. You made life fun, exciting and always an adventure of a lifetime. See you at your cabin on the creek in heaven and we will do some fishing and swap some stories. Love you Mari Lane Amidon
The Matheny family has always been so good to our family! You are all a special group and I love the love you all have for each other and everyone that knows you! Mark was a good man that would help everyone.