Marcus Alan Matheny
Marcus Alan Matheny, 77, of Grant, Fl, finished his race and went home to the Lord on Wednesday, April 28, 2021.
On December 17, 1943, Mark was born to Virginia and Jud Matheny in Logan, Ohio, his boyhood town.
Mark Matheny, known to many by the nicknames "Stubbie," "Pops," or "Coach," attended Morehead State University on a football scholarship. His first coaching position was at Jackson, Ohio, where he developed lifelong friendships. He was a passionate Ohio State football fan and sports enthusiast.
He moved to Eau Gallie, FL in the early '70s from Jackson, OH. He taught and coached at Eau Gallie High School for nearly 40 years. The lives he touched were countless, and the nicknames he gave people were priceless.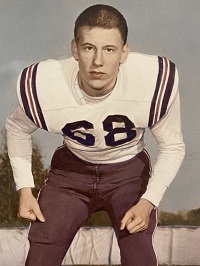 Mark loved everyone well. He judged no one and was a friend to all. He was a father figure to many of his players, even inviting some with difficult home environments, to live with him for seasons of time. He took time to encourage, praise, and assist those that others may pass by, from the custodians at school, to the ladies in the lunch room, to strangers at bus stops.
Mark had a magnificent sense of humor. Making his family and friends laugh was one of his greatest joys.
In the year 2000, Mark had a life-changing encounter with Jesus and came to know him as his Lord and Savior. He was baptized at First Baptist Church of Melbourne, where he gained a church family that he treasured deeply and served well. He shared with others about the Lord until the final moments of his life.
He enjoyed many hobbies, including playing tennis with the Space Coast League (SCTL), fishing, and spending time with his beloved family and friends in his retirement.
Mark is now home in his Father's arms, and we know he has heard the words of the Lord, "Well done, good and faithful servant!"
Survivors include his wife Angie, son Josh (Jenna), daughters Ginny Blythe, Megan (Scott) Wilson, Olivia (Marshall) Williams, grandchildren Emma, Ethan, Silas, Micah, Titus, Zeke, Angelina, Ava, Lane, and Bennett, a sister Lynn (Dave) Kantner, and nephews Ray and Cullen Beach. He was predeceased by his son-in-law Kevin Blythe.
A Celebration of His Life will be held on Saturday, May 8, at 4 pm at First Baptist Church Melbourne, with a casual outdoor reception following (*please bring a lawn chair for the reception). Anyone wanting to express sympathy is asked to consider the "Greater Things" Fund of First Baptist Church Melbourne.link
https://fbcmelbourneweb.myshelby.org/default.aspx?page=3424
The family would love for you to take a moment to share your fondest memory of Mark on the online guestbook below.

81 entries.
Mark is an awesome guy. Super friendly, cool, positive and always smiling. In tennis he was a captain's dream. He understood what "Team" meant. Never complained about his doubles partner. In the winter of 2020, the very last league match, our team had to win 3 out of 4 courts to become the Champions. Mark helped bring home the bacon. We won by 0.007 point. Thank you Brother Mark. Souls like yours are always with us. PS. Only negative about Mark is some of the folks he hung out with e.g. Jim Slate and Howard Rayner, are questionable. (Smile)
Mark will be remembered by his Morehead brothers as a friend and someone who could always bring a smile to our faces. You will be missed my friend, RIP
We took the news of Mark's passing particularly hard. That is just the kind of impact that this servant of Jesus had on our family. Our world has that so backward…stating that the more servants you have, the more successful you are. That is not true…the more you serve, the more you like Christ Jesus. Mark is that man, Mark is a servant! What a kind gentle spirit and the man would work so hard! We may have lost an amazing man on this side of glory, but we rejoice in knowing that we'll see him again someday. Love in Christ, The Brightwell's
Olivia and family, Though I didn't personally know Mr. Matheny, I do know how very much he was loved by his family. I also know he was well known and loved by many people in the community. These two things is something to cherish. Being of strong faith will get you through the days and then years ahead. I know how hard to lose a parent is because I've done it twice. Hold onto to how blessed he made all of your lives. ❤️🙏
Coach Matheny was a key piece in molding my father into the man he is today. I will be forever grateful for that!
Dear Matheny Family It is with sad heart I write this note to you. But I know that Mark is in heaven and working already at his greatest craft Helping others. He was a true lifetime friend to all he meet and I am very grateful that I became one of his friends. I'll never forget Mark and will keep his beautiful family in my prayers. Love Amos and Stacey Jones
I was a substitute at EGHS. Loved working with Coach Matheny.
My family all loved Coach Matheny. He loved his student and they loved him. He was such a great coach and mentor for our son, Tal when he ran track and cross country. Rest in Peace Coach you touched many many lives. Ray and Joyce Lowe
Coach Matheny was a man that changed my life in high school from the moment I stepped onto the tennis court in his class. His smile and laughter was infectious to say the least and no matter the day I had up until that point, I knew my day would always end incredibly because I had 7th period tennis. He was and still is someone I have looked up to. May God Bless his family in this tough time.
Coach Matheny was my Cross Country Coach my junior year at EGHS and I was his student aide for 2 years. He was so much more than a coach - he was a friend and a mentor. He was the first adult that showed true interest and appreciation for me when I was just a teenager. A happy, hearty soul. I'll miss you on this earth, Coach. Godspeed.
The impact you had on my life growing up was massive. Helped shaped the man I am today. Forever in my heart, coach. You are now glorified and in the arms of our triune God.
Mark was a fraternity brother of mine at Morehead St. He left his mark on all he came in contact with even then . He was always the life of the party . I am proud to call him my brother .Rest in Peace
God bless Coach Matheny and may he rest in peace. I am so sad at his passing. He's the reason I know how to play tennis and I still think of him and the ridiculous nicknames we all got in his class (mine was Jimadano).
I have many childhood memories of cousins having fun. We send our prayers and sympathy to those Marc loved and helped during his life. Losing someone special is never easy. Dave and Barb Johnson
He was the best coach and teacher..RIP coach
My heart goes out to the family and many friends. My husband Mike loved and respected Mark so much. He often told me that he was one of a kind and was honored to call him friend.
What a smile! He lit up a room when he walked in and never knew a stranger. So many lives touched and what a great legacy to be remembered so fondly by so many students. Memories will keep him alive in the hearts of those lucky enough to have known him. RIP coach.
He touched so many lives and made an imprint on everyone he met. Coach will be missed by everyone. My condolences and prayers to his family! Gina Elko Taylor
Very loving and caring man,teacher and leader. He always took time to talk.
Coach Matheny was like a local celebrity in our area. He was loved by so many and was the go to teacher at Eau Gallie High School. He made us all laugh and cared so much for others. I can still her him calling Jerry "shmitty" with his funny voice. My heart goes out to Angie, the love of his life, and all his beautiful children and grandchildren. Heaven gained a good one.