Marcus Alan Matheny
Marcus Alan Matheny, 77, of Grant, Fl, finished his race and went home to the Lord on Wednesday, April 28, 2021.
On December 17, 1943, Mark was born to Virginia and Jud Matheny in Logan, Ohio, his boyhood town.
Mark Matheny, known to many by the nicknames "Stubbie," "Pops," or "Coach," attended Morehead State University on a football scholarship. His first coaching position was at Jackson, Ohio, where he developed lifelong friendships. He was a passionate Ohio State football fan and sports enthusiast.
He moved to Eau Gallie, FL in the early '70s from Jackson, OH. He taught and coached at Eau Gallie High School for nearly 40 years. The lives he touched were countless, and the nicknames he gave people were priceless.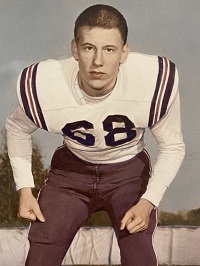 Mark loved everyone well. He judged no one and was a friend to all. He was a father figure to many of his players, even inviting some with difficult home environments, to live with him for seasons of time. He took time to encourage, praise, and assist those that others may pass by, from the custodians at school, to the ladies in the lunch room, to strangers at bus stops.
Mark had a magnificent sense of humor. Making his family and friends laugh was one of his greatest joys.
In the year 2000, Mark had a life-changing encounter with Jesus and came to know him as his Lord and Savior. He was baptized at First Baptist Church of Melbourne, where he gained a church family that he treasured deeply and served well. He shared with others about the Lord until the final moments of his life.
He enjoyed many hobbies, including playing tennis with the Space Coast League (SCTL), fishing, and spending time with his beloved family and friends in his retirement.
Mark is now home in his Father's arms, and we know he has heard the words of the Lord, "Well done, good and faithful servant!"
Survivors include his wife Angie, son Josh (Jenna), daughters Ginny Blythe, Megan (Scott) Wilson, Olivia (Marshall) Williams, grandchildren Emma, Ethan, Silas, Micah, Titus, Zeke, Angelina, Ava, Lane, and Bennett, a sister Lynn (Dave) Kantner, and nephews Ray and Cullen Beach. He was predeceased by his son-in-law Kevin Blythe.
A Celebration of His Life will be held on Saturday, May 8, at 4 pm at First Baptist Church Melbourne, with a casual outdoor reception following (*please bring a lawn chair for the reception). Anyone wanting to express sympathy is asked to consider the "Greater Things" Fund of First Baptist Church Melbourne.link
https://fbcmelbourneweb.myshelby.org/default.aspx?page=3424
The family would love for you to take a moment to share your fondest memory of Mark on the online guestbook below.

81 entries.
To all of Marc's (Stubber's) family, I am truly blessed to have been able to know him for my entire life! God truly made one of a kind with this wonderful soul! I am thankful for our relationship and I am sure that you all are better people for having him in your lives. May God bless you all with His comfort, peace and strength in this most difficult of times! Thanks Stubber for you!