Margaret Elizabeth Stout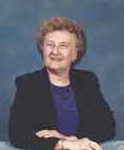 Born in Augusta, Georgia on June 2, 1924.
Departed in West Chester, Ohio, on July 28, 2019
Margaret Elizabeth Stout passed away peacefully in her sleep at her home in West Chester, Ohio, early in the morning of Sunday, July 28. She was 95 years old.
Known since youth as "Peggy" to family and friends, she was born June 2, 1924, at the Augusta Arsenal in Augusta, Georgia, to Alma Marion Hillegeist Carlton and husband Captain Thaddeus Mack Carlton, a decorated veteran of WWI. Peggy graduated from Augusta's Tubman High School. Within a year of meeting Elvis Stout, a young member of the Army Security Agency (ASA) on a blind date, Peggy and Elvis were married in 1951. Peggy would spend the next twenty years traveling with him and making their home throughout deployments and adventures in Yokohama, Japan; Redstone Arsenal, AL; Fort Devens, MA; Fort Richardson, AK; and Two Rock Ranch, CA, then a secret US Army base and now the Coast Guard Training Center north of San Francisco.
Peggy and family settled in Florida after her husband's military retirement to raise their children. She enjoyed gardening, ceramics, embroidery, volunteering for her Church and at Holmes Regional Medical Center, as well as cooking both the Southern recipes of her youth and the diverse menu she developed in the course of her travels. She loved her friends and neighbors in Florida as well as her fellow guild and club members of Church of Our Savior Episcopal Church in Palm Bay, Holy Trinity Episcopal Church in Melbourne, the Harris Corporation Retirees and ASA Veterans Club. After health concerns made living on her own in Florida unwise, Peggy made a new group of friends she dearly loved at her home at The Barrington in West Chester, OH.
She is predeceased by her husband of 48 years, Elvis, and sister, Glenn Ann Carlton. She is survived by her son, Lawrence (Tracey); daughter, Dr. Barbara Hallinan (Noel); grandchildren and light of her life, Johnny and Katie Hallinan; sisters Mary Kent (James), Betty Cochrane (Chuck) and brother Mack Carlton (Mary).
A celebration of her life will be held at Holy Trinity Episcopal Church in Melbourne, FL, on August 12 at 9:30 a.m. with Fr. Steve Easterday presiding, followed by interment at the Florida National Cemetery in Bushnell where her husband awaits. Family visitation hours are set for Sunday, 5p.m. to 7p.m., at Brownlie-Maxwell Funeral Home in Melbourne.
In lieu of flowers, the family requests donations be made to the Gary Sinise Foundation and the Juvenile Diabetes Research Foundation.