Marguerite Dumont Begin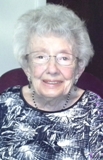 Born March 11, 1919 in Patten, Maine
Departed in Melbourne, Florida on August 8, 2018
Marguerite Dumont Begin passed away peacefully on August 8, 2018, at Melbourne Terrace in Melbourne, FL. Marguerite was born in Patten, Maine on March 11, 1919, the daughter of Mattie Brann and Joseph S. Dumont. She was Salutatorian of Lawrence High School, class of 1938, and then attended Thomas Business School. Following graduation, she held an administrative position at Keyes Fiber Co. A co-worker introduced her to his cousin, Jerry Begin. After a courtship interrupted by Jerry's service in World War II, they were married Jan 12, 1946.
Marguerite's passions were her faith and her family. She was a wonderful cook and enjoyed her flower gardens wherever she lived. She and Jerry provided a loving upbringing for their 4 children, David, Jim, Anne and Rose.
Marguerite joined the staff of Waterville Osteopathic Hospital in the summer of 1962. She was employed first in the Business Office and later in the Purchasing Department. She was featured in their newspaper, "The Osteoscope" in 1974 as a model employee. Marguerite was complemented for the precision and detail of her work. Her love of flowers was also noted because Marguerite always had a bouquet of flowers on her desk. The author of the article wrote" "even without the flowers, Marguerite herself radiates joy and beauty over that of any bouquet".
She enjoyed playing Bridge at the Muskey Center in Waterville and was active in the community of St. Francis de Sales. After her husband's passing in 1988, she spent her winters in Florida, until she permanently moved to Florida in 2000.
She was predeceased by her parents, Joseph and Mattie (Brann) Dumont, her husband of 42 years Gerard Begin, her brothers, Henry Dumont (who was missing in action during WWII), Larry Dumont, Richard Dumont and Joseph Dumont, her sisters Kathleen (Sister Immaculata), Lena Maillet, Florence Theberge, her brothers-in law Clement Theberge, Neri "Kit" Maillet and James Violette and sisters-in-law Terry Dumont and Robbie Dumont.
Marguerite is survived by her sister,Theresa. She is also survived by all of her children and their spouses David and Helen Begin of Melbourne, FL, James and Kimberly Begin of the Waterville area, Michael and Anne Farrington of Melbourne, FL and Rose Jackson of Thomasville, NC.
In addition, Marguerite is survived by 16 grandchildren: David Begin, Jr., Mary Spraggins, Nathan Farrington, Stephen Farrington, Annie Begin, Maria Hawes, Suzannah Begin, Ellie Begin, Christina Pickering, Jonathan Begin, Reuben Begin, Josiah Begin, Cathereine Begin, Judah Begin, Matthew Jackson and Joshua Jackson and 10 great-grandchildren: John Moser, Jesse Moser, Bon Moser, Sebastian Farrington, Ruby Farrington, Gavin Hawes, Arianna Hawes, Collette Marguerite Hawes, Remy Begin and Corbin Gerard Begin. She is also survived by many nieces and nephews.
A Mass of Christian burial will be held at 11 A.M. August 24, 2018 at Corpus Christi Church in Waterville, Maine, followed by a reception in the Parish hall. She will be interred at the St. Francis Catholic Cemetery.
In lieu of flowers, donations in Marguerite's memory may be sent to The Servants of the Blessed Sacrament, 101 Silver St. Waterville, Maine 04901.

4 entries.
Marguerite was a very special person .I worked with her for many years at Waterville Osteopathic Hospital,(Inland Hospital) were she was respected and loved.
Aunt Marguerite was a great person who lived just around the corner from our family on Western Avenue in Waterville. We all missed she and her family very much. I just lost my better half and know what her loved ones are going thru. I hope to see her and her family at her funeral which is to be coming up on August 24.I surely miss you all.
A precious, lovely, Christian friend! I feel as if I have known her all of my days on earth. Thank you, Anne, for being such a devoted daughter. I hope that you will be able to keep in touch from time to time.
With our sympathy, love and prayers.