Marie Anne Passmore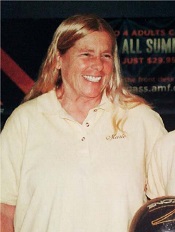 Born on September 10, 1955 in Syracuse, New York
Departed on March 3, 2021, in West Melbourne, Florida
Marie Anne Passmore, 65, passed away on March 3, 2021 at her home in West Melbourne, FL. She was born and raised in Syracuse, NY, daughter of late Francis and Thelma Kelly. She was the eldest of five siblings, Colleen, Katherine, Michael and Kenneth. And has been a Florida resident since 1974.
Marie was a beloved mother, grandmother and friend. She was a genuine, caring person. Always making people smile by lifting their spirits with random acts of kindness. The first thing everyone did when they saw Marie was to stop and read her t-shirt. Every t-shirt had a joke that matched her sarcastic sense of humor. She was an avid bowler, even held a bowling card at the age of thirteen. She was a team player on many leagues at Brunswick bowling alley, where she created long lasting friendships throughout the years. She had the most compassion for the elderly community, volunteering for ten years at the Senior Center in Melbourne.
She leaves her daughter Kisha, stepchildren Stephen and Jessica, two grandsons Nick and Cooper, two granddaughters Miranda and Madeline, who she loved very dearly.

2 entries.
Bowled with Marie in recent years. Talked of her daughter and grandson who she lived with great admiration and love. She was friendly and talking with her had alot of compassion for her work with the Seniors. I am sad she is gone too soon. My condolences to her family.