Gina Marie Vincent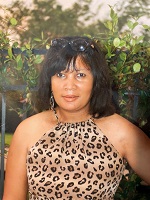 Born on December 16, 1959 in Port-Au-Prince, Haiti
Departed on January 31, 2021, in Melbourne, Florida
Gina Marie Vincent, 61, of Melbourne, FL passed away on Sunday January 31, 2021 in Melbourne. She was born in Port-Au-Prince, Haiti to Andre and Luce Vilmenay. She was a retired Office Manager for Macy's in Herald Sq. New York, NY, where she moved to Florida in 2000 and was a Catholic.
Gina graduated from South Shore High School in Brooklyn, where she continued her education at New York Technical College, where she was awarded an Associates Degree in Business Management. She also had a passion for fashion and style, which is one of the reasons she took on the position of office manager at Macy's. While on a trip to Miami, FL, Gina met her husband Ernst Vincent, and proceeded to have two beautiful children, son Ricky and daughter Vanessa Vincent.
Gina was a kind, selfless, and loving woman. Her kids were her world and she made sure to always provide, no matter the circumstances. She was also very supportive towards her children in every aspect of their lives. Her smile and laugh was contagious and her humor was unmatched.
Additionally, there was nothing Gina couldn't accomplish. Her hard work and ambition was inspirational to everyone who knew her. Any time she walked through a room she was always greeted and welcomed with open arms. It was clear how much everyone loved her and enjoyed being in her presence.
Gina always instilled in her family compassion. She always wanted her children and husband to look after one another. She always spoke highly of her children and will always be remembered as the kind and caring person she was.
Survivors include her husband Ernst (married 27 years), son Ricky and daughter Vanessa Vincent, her mother Luce Vilmenay and a brother Patrick Vilmenay.
Calling hours will be at the Brownlie – Maxwell Funeral Home in Melbourne, FL on Friday February 12th from 4pm-7pm. A Mass of the Resurrection will be celebrated on Saturday February 13th at 10am in the Our Lady of Grace Catholic Church, 300 Malabar Rd., Palm Bay, FL 32909

16 entries.
My deepest sympathies to the Vincent and Vilmenay families. Gina was a remarkable woman whose beauty shined from the inside out, always stylish and graceful. Ricky and Vanessa are blessed to have had such a loving and caring mother. I pray for your peace and healing. May you find comfort in the special memories you created with Gina. My heart is with you all. RIP Gina ❤
You will be missed and always loved and never forgotten❤❤❤❤ R.I.P.
To the Vilmenay and Vincent family Sorry for your lose. Gina I will always remember you especially when we were living in Long Island. We were very close you were a great friend and cousin. Vanessa, Ricky,Patrick and Luce stay strong you have family that will always be there for all of you anytime. Rest In eternal peace. Love Always Marie Jo Cadet (Pluche)
I'll always remember you by your class and pizzazz. How fly you were! When I was little I always admired how sweet you were to me, and with that, I'm disappointed in myself for not having taken the opportunity to share that with you in the more recent times. Sending my sincerest condolences to your children, our family and anyone else who is saddened by this loss. God bless you Gina! May your soul have Rest In Paradise.
It is with a heavy heart that I send my condolences to Ricky and Vanessa. I loved my cousin Gina very much. May she rest in the arms of the Lord God! If the both of you need anything, please let me know! ❤ 🙏🏽
My sincere condolences to the Vilmenay & Vincent family , Gina was one of my favorite cousin , she was such a sweet girl , she is gone too soon , I have too many questions for God , she was such a devoted mother for her two kids , they were the world to her, i was speechless when Ricky called me & told me about it , she is gone now but I will do my best to hang on to the memories . Ricky & Vanessa , please keep in touch & let me know if u need anything , we are family & u can't do it alone . Rip GINA & may God's blessings be always with the rest of the family .
Gina, I will always remember the New York days when you would come to our house in Long Island . I have grown to admire your love for your family. You have so much to be proud of and you accomplished so much in a short period of time. May you Rest In Peace knowing that you have left a legacy behind. Love you , Your cousin Jeff
Condolences to Vincent and Vilmenay family. My heart goes out to Ricky and Vanessa. Gina is my Fashionista Cousin who whenever she walked into a room all you can do is stare with awe because of how beautiful she was. Inside and out. She had a presence and kindness to her that you just want to be around her. She will be missed and we send our prayers to her kids who will need the hugs and shoulders from everyone.
I am sending my heartfelt condolences to Gina's entire family especially to her children, her mother, her husband and brother. God please welcome Gina into your kingdom and give her eternal rest and peace.
Gina was my good friend growing up in the 70s when I came to the US. We had so much fun taking the bus to go shopping in Brooklyn. Gina always had that great smile and was very approachable. Whenever she wanted to go out, she would call me and we would meet somewhere. Your Mom will be missed! I will always remember the great times that we shared together. I really "Loved My cousin Gina". Rest in Peace!🙏🏼💓
From the Cadet, and Douby family we would like to express our deepest sympathy for your loss. We are here for you family if there's anything you need. We will keep you in our hearts and prayers.
My condolences to the entire family. This really saddens me. Gina was a sweetheart, very gracious and carried herself as a lady at all times. May her soul forever Rest In Peace in God's Kingdom 🙏🏾
Dearest Ricky and Vanessa I'm lost for words. I wish I had the right words, just know that I care. I don't know how you feel, but I'm here to help anyway that I can. Love, Aunt Rossie
It is with sadness that I send my condolences to Patrick, Ricky and Vanessa, as well as the entire Vilmenay clan. Gina was my cousin and even though we had not kept in touch, she will remain in my heart as a gentle soul who was taken much too early from us. RIP and God bless.
My deepest condolences to the Vincent's and Vilmenay's. I am so sorry for this terrible loss. Gina was always a sweet,caring, compassionate person. I admired her beauty and great fashion sense too. I know she will be missed dearly by her children, husband, mom, brother, and many others. My prayers for strength and comfort are with you all. -2 Cor. 1:3,4