Marie L. Rinando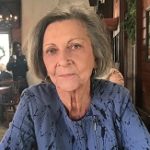 Born on March 9, 1942 in Brooklyn, New York
Departed in Melbourne, Florida on May 1, 2020
Marie L. Rinando passed away on Friday, May 1st, 2020. She is preceded in death by her husband of 52 years, Joseph S. Rinando. She is survived by daughter Suzanne and husband Nick Billiris, daughter Joanne and husband Marc Schrader, grandson Judd and wife Shannon Mahaney, granddaughter Arianna and husband Joe Goldschmidt, grandson Ryan Mahaney, and grandson Nicholas Billiris. She was a caretaker, loving wife, mother, grandmother, and our best friend. She was dedicated to many causes throughout her life and had many good friends. Marie was also a member of the Knights of Columbus Ladies' Auxiliary Saint Joseph's Council in Palm Bay, Florida. She was the light in any room and always loved to laugh, making everyone around her feel loved and special. Services will be private, and in lieu of flowers, please donate to: https://newlife-mission.org/

4 entries.
Our sincerest sympathies We have many wonderful memories of Marie & Joe from the old baseball days in Levittown, NY
Your mother was special to me. She treated my family like we belonged to yours. She was so gentle and kind and always had the nicest things to say. She could make you feel so wonderful when you were having the worst of days. Whenever I saw her - her hug was the best ever. She will truly be missed.
Mom, Gone too soon is an understatement. You will be remembered for many good reasons, but especially for your love to your family. You always enjoyed a good laugh and we certainly had many over the years. May you rest in peace by dad's side. You will be forever missed. Your son in law, Nick
I have such fond memories of our friendship during High School, our membership in The Randals and some get togethers as married couples with her husband Joe and my husband Doug. Although over the years we lived many miles apart we kept in touch and I am sad that she is no longer with us but my memories will go on. My deepest sympathy to Suzanne and Joanne and their families.