Marilyn Benson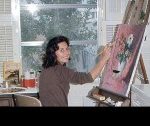 Born in New York, New York on November 2, 1933
Departed in Melbourne, Florida on August 23, 2019
Marilyn Benson, a notable artist in the community, passed away August 23 after a long struggle with cancer.
Marilyn was born in New York in 1933 where she developed her artistic and dance skills, first as a window dresser for Hearn's department store and later as a dance instructor for Fred Astaire Studios. She moved to south Florida in the 1950s and continued to teach ballroom dancing at the local hotels where she also performed in opening acts for the headliner celebrities.
Marilyn moved to Melbourne Beach in the 1970s with her husband, Fred, and daughter, Lynda. She was an active member of the fine arts community, holding memberships at the Art Student's Guild, the Fifth Avenue Gallery and the Foosaner Art Center. She taught watercolor painting and won numerous awards, culminating in her acceptance as a Signature Member of the Florida Watercolor Society in 2014.
Marilyn will be remembered for her creativity, gourmet cooking and generous heart. She is survived by her daughter, Lynda and son-in law Neil Ambrus and step children Ron, Steve and Ann.
The funeral will be held at Immaculate Conception Catholic Church, 3780 S Hwy A1A, Melbourne Beach, FL 32951 on Friday, September 27 at 10:30 AM.
In lieu of flowers donations are requested for the Leukemia and Lymphoma Society.