Mark Dwayne Busby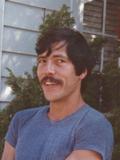 Born in Melbourne, Florida April 30, 1959.
Departed in Melbourne, Florida on September 9, 2018
Mark Dwayne Busby, 59, a native of Melbourne, FL passed away on Sunday September 9,2018. He was a freelance painter and mechanic who loved family, fishing, hunting, bottle and drift wood collection, motorcycles and music.
Survivors include his mother Judy Busby Abercrombie of Young Harris, GA
a brother Michael Busby of Jacksonville, FL, sister Debbie (Dean) Sutton of Banks, AL, niece Carrie (Ryan) Ellis of Banks, AL; nephew Randy (Deeanna) Sutton of Wicksburg, AL, great nieces and nephews Hannah Johnson, Avery & Westin Sutton and Gavin Ellis, an aunt Shirley (Jerry) VanLeeuwen of Crystal River, FL and numerous cousins. He was predeceased by his father Elmo Busby Jr (TN), step father Wayne Abercrombie (GA), brother David Busby and nephew Jesse Sutton (AL).
A memorial service will be Saturday September 22nd at 10am in the Brownlie – Maxwell Funeral Chapel.
John 8:36 (KJV) If the Son therefore shall make you free, ye shall be free indeed.
Col 1:13-14 (NLT) For he has rescued us from the kingdom of darkness and transferred us into the Kingdom of his dear Son, who purchased our freedom and forgave our sins.
3 entries.
Love is forever, as i love you forever, meet you on the other side one day, Peace be with you, love janemaryann
Your family are in are thoughts and in our Prayers❣️🙏 RIP Mark 💞😢
Rest in peace my dear cousin enjoy being with all your loved ones in your heavenly home !!