Mark J. Miller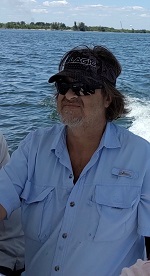 Born on January 28, 1959 in Philadelphia, Pennsylvania
Departed on April 7, 2021, in Melbourne, Florida
Mark J. Miller of Melbourne Beach, FL and Sewell, NJ, passed away suddenly at the early age of 62 on April 7, 2021.
Mark was a dedicated family man and a loyal friend. He devoted most of his life to helping his parents run their business in the record industry, and continued to do so until his father's recent passing. Mark loved being with family and friends and was the life of the party. His storytelling was legendary. Always a seeker of adventure, Mark loved boating, motorcycle riding and racing Porsches. He was a kind and generous father and grandfather. He was the kind of friend you could always count on. He could make you laugh when you were down. You knew when you got together with Mark, a great story would develop that would be retold over and over.
Mark married his high school sweetheart, Carolyn (nee Brand) Miller, who was his soul mate and closest friend. They recently retired in Florida. He also leaves behind three beautiful daughters, Hailey (Doug) Garrison, Kristen Worden and Carlie (Jasmin) Worden; five spirited grandchildren, Jaxon, Sienna, Landon, Lily and Mason; sisters Valerie (Rich) Gard and Stephanie (Bo) Laborde; and several nieces and nephews, as well as numerous friends. He was predeceased by his loving parents, James and Joan (nee Gaudioso) Miller of Barnsboro, NJ.
Visitation and a celebration of Mark's life will be Tuesday April 13th from 3pm to 5pm at the Brownlie – Maxwell Funeral Home
Mark left a big hole that none can fill, and will be sorely missed by all who knew and loved him. In lieu of flowers, donations may be sent to diabetes or willseye in Mark's memory.
5 entries.
We were so deeply saddened to hear of Mark's passing! We know he was enjoying retirement in Florida and looking forward to many happy years. He was truly a light in this world and we will never forget his kind words and stories! Our wish for his family is peace in knowing he lived the life he wanted!
Still cant believe he is gone. Love and prayers to the whole family. Mark was a great friend he was like a brother. I think of him everyday. I know I will see you again Mark and hear you tell stories like no one else can.
Caroline, we are so sad to hear about Marks passing. He was a wonderful person and I always enjoyed talking boats and other interests with him at parties. Our thoughts and prayers go out to you and your family.
This is such a sad occasion. Susan and I send our love to the whole family . We pray his fun stories stay with you as a reminder of his life. Love , Gary and Susan
Carolyn and family, We are so sorry to hear of Mark's passing. May all your wonderful memories of Mark help sustain you through this difficult time. Your loss is immeasurable but so is the love left behind. Anne & Mike Camilli