Martha E. Walters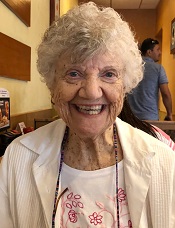 Born on June 14, 1930 in Washington, DC
Departed on August 8, 2021 in Palm Bay, Florida
Mom died on a Sunday evening, August 8th. She had just enjoyed a family dinner with all of her caregivers and had been tucked in bed. She was happy and content. When checking on her later she had passed away in her sleep. She had been living with Lewy Body Dementia and still experiencing joy on a daily basis. Her stories growing up in Washington DC and her life experiences as a submariner's wife she shared, kept everyone laughing right up until she died. She lived a full life to the end and her wish was granted that she "went" in her sleep before she didn't know who she was.
Formerly of Dale City, VA, she was predeceased (1996) by her late husband GM1 Charles Christman Walters US Navy and later he was employed by the District of Columbia Federal Prison System Lorton. She was born on June 14th, Flag Day, 1930 to William M Mosely and Jamie B. Petty in Washington DC. She was one of many children. Again on June 14th she married on her 25th birthday on the steps of Town Hall, Charleston, SC. so as not to be an "old Maid" to GM1 Charles Christman Walters, US Navy. Chris was a tall handsome charming sailor especially in his Navy uniform. They had 2 children at Key West Naval Hospital and 2 more at Jacksonville Naval Hospital. She was a strong dedicated mom who raised the children when Chris was out to sea. She is mourned by her four children, LCDR Lisa-Marie Walters Griffiths US Navy married to Brian J. Griffiths of Ashford, CT, Patrick Chris Walters of Fredericksburg, VA, Lori Lee Walters of Fairfax, VA and Michael Chris Walters married to Tracy Walters of Partlow, VA plus their beautiful 3 daughters. These granddaughters were so special to her. Former SSgt Brittany Lea (Walters) Bradford, Air Force married to Trevor Bradford of Jonestown PA, Jessica Lynn (Walters) Orlando married to Jason Orlando of Fredericksburg VA and Brooke Walters of New Cumberland PA. One of Mom's few regrets in life is not meeting her 4 precious great grandchildren Tanner, Lucy, Asher and Tucker.
The hardest part of living to 91yo was having all her siblings and most spouses die first. She is survived by her brother-in-law Marvin "Monk" Sampson of Palm Bay, Florida. Four of Mom's siblings and families had moved to Palm Bay in the 1980's and they had continued to have a close relationship in the sunshine state for many decades. She was a strong independent role model as an Aunt to many nephews and nieces. Three nieces, Carol, Janet and Shirley continued to bring joy to her with their phones calls, reminiscences and sending old "black and white" photos of good times in DC and Maryland with her sisters and girlfriends. The Walters Family can never thank Theresa Munno, Brianna Fidilio and Sierra Fidilio enough. The high quality of care Mom received her last 3 years is what I would wish for everyone living with Dementia. They became her loving caring family.
A small immediate family only funeral service was held on August 19th at Marine Corp Chapel Quantico, VA lead by Chaplain/ Commander Michael B. Chaney, US Navy and burial at Quantic National Cemetery where she joined Chris again. Her Pallbearers were Brittany Bradford, Jessica Orlando, Brooke Walters, Theresa Munno, Brianna Fidilio, and Sierra Fidilio the important women in her life. The eulogy was given by her oldest daughter Lisa-Marie.
Mom loved her Red Hat Lady friends and believed in eating dessert first. This became a reality, ice cream for breakfast to help her gain weight at the end. Mom and Dad were active member of the Greater Palm Bay Senior Center since the move to Florida. Dad played cards and billiards there while mom worked in the kitchen and cashier for Bingo. She continued volunteering way into her 80's. For over a decade she collected coupons at the Senior Center to mail to military families in Germany. On military bases you can use a grocery coupon up to 6 months after the expiration date. Soon baskets of coupons were left for her. All her siblings collected coupons from their neighbors. She would sit for hours with tall piles of newspaper flyers clipping. Monthly a shoe box full would be mailed to the military base. Yearly she would receive a thankyou letter from the base commanding officer and she treasured those letters. She loved animals and only had one pet, her poodle named Jimmy. She always donated to the ASPCA and local animal shelters. In memory of my mom please consider a donation or better take a bag of dog or cat food to your local shelter.
Rest in peace Mom, you deserve it.
4 entries.
Martha was a delightful lady and enjoyed her many stories and looking through her photo albums as she reminisced about her family. I had attended a few Red Hat Socials with her and it was always a pleasure to be in the presence of such a nice lady. Everyone just loved her and she so enjoyed their chatting with her.It always made for a nice afternoon. I am so sorry for your loss and God Bless 💜
Rest in peace mom! We love you, Brian and Lisa-Marie Griffiths