Martha Gebrowsky Mirowsky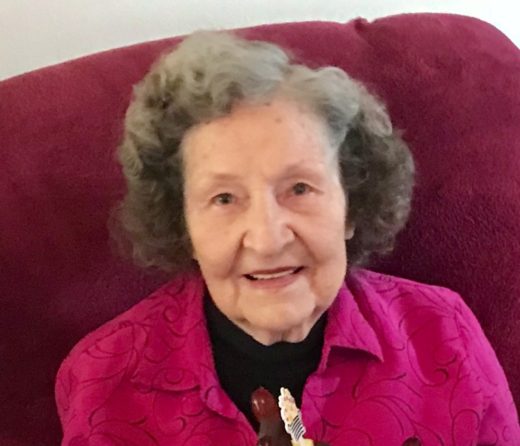 Born on February 13, 1928 in West Melbourne, Florida
Departed on May 25, 2021, in Palm Bay, Florida
Martha Gebrowsky Mirowsky, 93, of West Melbourne, Florida, passed on May 25, 2021 in Palm Bay, Florida.
She was born on February 13, 1928 in West Melbourne to Alexander and Mary Timmora Gebrowsky and was raised here, a lifelong resident. Martha's family includes her children Linda Gast and Bill Mirowsky; grandchildren Stacy, Christy, Lisa, Kelly and Jennifer and eight great grandchildren. She was predeceased by her husband Paul "Moose" Mirowsky on December 14, 1997.
Having grown up on a dairy farm on Hollywood Boulevard, she was one of eight children. Martha played basketball at Mel High, loved sports & cards. She received the "Key to the City "of West Melbourne at the 50th anniversary celebration of the city in 2009 for being the oldest living person born in West Melbourne. She was a longtime member of the Greater Palm Bay Senior Center and was retired from Southern Bell and Hughes Supply in Melbourne. Her many friends and relatives will miss her.
Please consider donations in her memory to St. Anthony's Orthodox Church, P.O. Box 267, Melbourne, FL 32902.
Calling hours will be at Brownlie Maxwell Funeral Home, 1010 E. Palmetto Ave., Melbourne on Friday, May 28 from 4:30 until 6:30 pm; with a service there on Saturday, May 29 at 1 pm. Burial will follow in Melbourne Cemetery.
8 entries.
My Aunt Martha was an amazing woman. She was kind, special and loving. I am so lucky that my Uncle Moose married her. I enjoyed spending time with her for happy hour and jeopardy. I will always remember the vacations in the Dominican Republic. Oh what fun we had. I will cherish every moment we spent together. Bill and Linda you kept her in her house as long as you could. I am sure she appreciated that. I was blessed to have her in my life. The tears I shed are for my loss but Heaven just got and angel. I will miss her dearly. May Her Memory Be Eternal. .
Mema (only name I've ever know you as), what a life you've lived and what a wonderful legacy you have left behind in your family! I know you've heard "Well done, good and faithful servant"! Rob and I are keeping all the family lifted up in our prayers! ❤️
MARTHA NO ONE COULD ASK FOR A NICER SISTER IN LAW. YOU WILL BE MISSED. REST IN PEACE BUT I KNOW YOU ALREADY HAVE A CARD GAME GOING JUST ANOTHER DAY AT WORK FOR YOU. I WILL THINK OF YOU OFTEN.
Heaven received the most beautiful angel when he called you home. I am so thankful for the many years I was able to spend with you Mema. I will always remember the stories you told about growing up in Melbourne. Milking the cows and working as the telephone operator. I loved playing cards and watching the game show network with you. You were always the best hostess at parties and gatherings, always making sure everyone had something to drink and everything they needed before taking care of yourself. To my Dad and Aunt Linda, you both are amazing children. You took care of her and made it possible for her to be safe in her own home until the very end. I know she appreciates all you did for her and loves you both very much. We are all so blessed to have known and loved such a sweet, loving, strong and amazing woman. You will be greatly missed. I will hold our memories close to my heart. I love you forever Mema.
God Bless You Martha. Looking back in life, you were one of the most important, special, kind and loving people in my life. You helped and guided me as a teenager and young mother to Stacey, your 1st granddaugter. I remember one night we both sat at the door where Stacey was sleeping, contemplating when we would go in to get her as she started crying. They say let the baby stir a little before getting her or else you will spoil them, we both whispered back and forth until we finally said, "forget this" lol and went in to cuddle her together. That moment was so nice, cute and funny as you helped me be strong saying. "Maybe just one more minute" lol And also when Moose was so excited to have his 1st grandchild and would go pick her up from her crib before I could, as well as in the middle of the night, I would get to the crib and she wasnt there and you scolded him lol and told him he just shouldnt do that. You always had my back. And truly that meant the world. You loved your grandchildren and we all loved you very much and loved being with you both almost every Sunday after the girls and I came back from church. I still cherish those Sunday's. Those memories will always have a most meaningful place in my heart. Thank you for loving us, teaching us, helping us, and supporting us and being an amazing women in our lives. We are all grateful as our lives were richly blessed because of you. I have missed you. Rest peacefully.
So proud to be your granddaughter! I love you Mema, you'll be in my heart forever!
I loved you so much Martha. You were technically my mother in law, but you were the mom I had lost many years ago. The adventures we went on seeing the world, the times we sat yelling at sports on tv or the quiet times we just talked about our pasts and even the quiet times we sat in peaceful silence. You will be missed more than you can imagine
You will be in our hearts and minds always.