Mary Louise McLaughlin Didden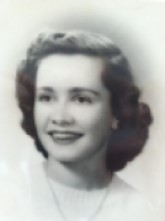 Born on October 6, 1932 in Newport, New Hampshire
Departed on January 8, 2022 in Palm Bay, Florida
Mary Louise McLaughlin Didden
Melbourne – Surrounded by her 5 children, Mary Louise Didden went to be with the Lord on January 8, 2022. Mary Lou was born October 6, 1932 in Newport, New Hampshire.
Her early years were spent in Harrisville, New Hampshire until her family moved to Gardiner, Maine where she attended high school. Mary Lou married the love of her life, William Didden on August 12th 1950. They raised 5 children while residing in Pennsylvania until 1985 when they moved to Flagler Beach, Florida. After the death of her husband in 2006, Mary Lou lived in Port St. Lucie with daughter Dawna and her family. She moved to The Fountains in Melbourne near son, Bill and wife Babs, in 2014. She will be greatly missed by her 5 children, 11 grandchildren, and 2 great-grandchildren. Mary Lou will rest beside her husband of 55 years.
Mary Lou is survived by son Bill Didden and wife Babs of Melbourne Beach, daughter Mary Kartzman and husband Dave of Chesterfield Virginia, son Robert Didden and wife Lisa of Alexandria Virginia, daughter Debra Laliberte and husband Ed of Barboursville Virginia, and daughter Dawna Boggs and husband Eric of Port St. Lucie Florida.
1 entry.
Bill and Babs I'm so sorry for your loss!! She was a lovely person the few times I met her in church! Beautiful smile and you were always both giving of yourselves for her care and company!! Love you both.