Mary Suzanne (Cockrell) Kohel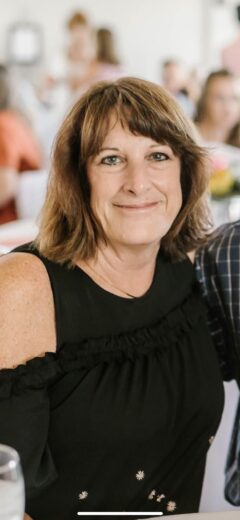 Born on November 20, 1966 in Melbourne, Florida
Departed March 8, 2023 in Palm Bay, Florida
Mary Suzanne (Suzy) Kohel was born on November 20, 1966 in Melbourne, Florida and left this earthly life on March 8, 2023. Her family and friends will miss her dearly but know that she will have stories to tell when we see her again.
Suzy was a devoted wife and mother to her loving husband, Eugene Kohel, and her two beautiful children, Ryan and Emily. Eugene and Suzy shared over thirty years of life and love together. She loved her kids with a passion that could not be matched and being a mother was her greatest joy in life. Suzy was a phenomenal mother and created a life of fun and laughter for her kids. The forever bond between her and her children will never be broken.
Suzy was a loving and devoted daughter to her parents, Judy and Lou Luciano; and Norm and Alice Cockrell. Her big sister, Gaye and husband Paul Kurmas and her big brother, Rick and wife Diane Cockrell were blessed to have her as their cute, funny and energetic baby sister. She was gifted with other brothers and sisters in Debbie Kohel, Charlie Kohel, Rick Kohel, Ron Kohel and Cindy Selph; Chuck (Bobbie) Pace; and Amy (Bill) Franco. Suzy had a great relationship with her aunt and uncle, Sandra and Steve Shaw. Sandra taught her how to be the best aunt to all her nieces and nephews. Aunt Suzy was the fun-loving, favorite of Sam (Justien Martin) Kulvete; Weston (Mackenzie Brown) Kulvete; Carrie (Christian) Calamia; Caitlin Carter; Chris Carter; Brad Kohel, and Karla Kohel. Suzy had the most special bond with her great-nephew Jr. (Christian). They adored each other and the joy in each others faces really showed how much they loved being together. Suzy extended that love to her great-niece Lauren Corgan. Our family was blessed with a close and caring circle of cousins who dearly loved Suzy as the baby of the family. Suzy is predeceased by her grandparents, James and Dorothy Cox and Frank and Monta Cockrell. Suzy's love of her family knew no limits and she generously showed that love to the people she was closest to.
Suzy was a friend to all she met. Like her grandfather, James, Suzy did not know a stranger. Every person she met became a friend and she had many lifelong friends that she cherished as her chosen family. Some of the comments made about Suzy from her friends include "amazing person"; "everyone was better for knowing her"; "always had a smile and goofy story to tell"; "beautiful inside and out"; "a kind, generous and funny soul"; "a sweet personality with a genuine heart". What a legacy! We can honor her legacy by being the kind of friend that Suzy taught us how to be.
Suzy was an amazing teacher. She started her career as an accountant for the City of Melbourne but found her calling as a pre-school teacher at Christa McAuliffe Elementary School in Palm Bay, Florida. She connected with many of the parents who also became friends. She instilled a love of learning in the youngest students, many of whom visited and spent time with her as they grew older.
Suzy was a lover of life. Her desire to go out and have fun every day included movies and dinner with friends; going to concerts with her daughter; participating in running events with her husband; rollercoasters and thrill rides, Universal Studios and Disney World; reading; road trips to Buc-ees; mini vacations floating down a lazy river; and enjoying the perfect chocolate milkshake and Crumbl cookies with her kids. She loved spending time with her kids playing games, going on adventures and just being together as much as possible. She enjoyed every minute of being with family and friends. Her favorite place in all the world was the beach. She spent many Sunday afternoons relaxing on the beach. The beach is where her spirit can be found now.
Our family asks that you honor Suzy's memory by living a life of fun, kindness and service to others. Make a new friend today. Walk on the beach and breathe in life. Be an educator in whatever area your best talent lies. Spread the word about breast cancer awareness. Volunteer at a school, hospital or other caring facility. Go be a Suzy!
In lieu of flowers please make donations to:
William Childs Hospice House
381 Medplex Parkway
Palm Bay, Florida 32907
Visitation will be on Friday, March 24, 2023 from 1:00-2:00 p.m., followed by a memorial service at 2:00 pm at:
Brownlie- Maxwell Funeral Home
1010 E. Palmetto Ave.
Melbourne, FL 32901

13 entries.
Suzy was truly amazing. We had so many fun times in her VW bug, always with music blaring. She loved music and the beach she will be missed so, my heart aches. Heaven gained a beautiful angel, I will miss you Suzy❤️
I'm so very sorry Eugene. I'm praying for your family. You are in my mind, heart and prayers. I love you brother.
Pre-K will not be the same. Sending prayers for your family. God Bless
I hadn't seen Suzy in over 35 years. But will always remember her as being my concert going buddy. We saw so many shows together as teenagers. What an incredibly beautiful tribute here. I'm so sorry for the loss of Suzy. I'm happy to know she lived such a fulfilled life. I imagine she smiled all the time. Susan Garrick Martin
So sad to hear. Our thoughts and prayers are with you and the family!
Suzy was a phenomenal pre-k teacher and such a great person. So many prayers for her family during this devastating time. I will always think of her when I look in the eyes of the little ones at school and when I am visiting the beach. Fly high with angels, Suzy. We love you.
She was such a loving person went to high school with her and we talked on face book occasionally about our kids going to really miss that. RIH.
Suzy was a wonderful person. I really enjoyed working with her. She is greatly missed. Prayers for the family.
I'm still at a loss for words. Suzy & I have been friends for longer than I can remember. She will be dearly missed. Fly with the Angels my dear sweet friend.
This is still hard for me to wrap my head around. A lot of good memories have been flooding back of our childhood and younger years. You will be dearly missed Suz♡!
I got the honor meeting Susie in October while her husband was running a 5K her and Eugene visited with my group and I just found her to be a joy to be around. I know she gave that Joy to so many people. My heart goes to Eugene and his family, prayers are with you all.
My beloved friend, Suzy. I will always cherish our many years of friendship and fun. We have known each other since we were in seventh grade and became not just friends, but partners in crime and sisters. I will forever cherish your laugh, your wry sense of humor and your love of life, family and friends. Your love of the beach will always be with me. When I'm there, you will be with me. I love you my dear, forever!
Suzy was the kindest, sweetest friend to everyone who knew her. Honestly, you didn't even have to know her to see that. She smiled at everyone. I am heartbroken that we don't get to meet for breakfast or lunch anymore or head over to Homegoods after we ate. My heart is shattered for Eugene, Ryan, Emily and all her family and friends. I am saddened for everyone who will never get to know the extraordinary daughter, sister, wife, mother, Aunt, friend that Suzy was. Life will never be the same without her spirit in it, but I will do everything in power to make at least one person smile everyday in her honor and her memory. 💔-Tina