Michael Carl Smith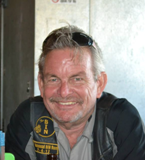 Born in Miami, Florida on December 25, 1952
Departed in Palm Bay, Florida, on April 25, 2019
Michael Carl Smith, 66, of Melbourne, Florida, passed away surrounded by loved ones on the evening of April 25th 2019. He was a retired mechanic and the towns best tool guy around. Many knew him as "Smitty", he loved everyone and knew atleast one person everywhere he went. He was a hard worker and always willing to help others out. He enjoyed cooking and riding his motorcycle while blasting the latest rock band. He is survived by the love of his life Mireille E. Smith, His son Johnny C. Smith, Daughter Alicia A. Pepin, Daughter in law Adrian M Smith, Father Carl Smith, Brothers Randy and Jeff , sister in law Eva Smith, and two grandsons Devon and Dylan.
A celebration of life will be held on May 25th, 2019 at F. Burton Smith Regional Park located at 7575 King Street, Cocoa Fl 32926 at 2 pm.
Please join the family and share your favorite stories of him with us.
3 entries.
I loved you hard. I loved you kind. So many memories. You will always me in my heart. So thankful I got to see you in February, 2019. We' ll see each other again, love