Michelle Kirstie Rivera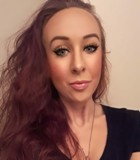 Born in Coral Springs, Florida on February 26, 1991.
Departed in Largo, Florida on October 22, 2018
Michelle Kirstie Rivera passed away on October 22 in Largo Florida at age 27. She is survived by her Mother, Denise; Father, Kenneth; Stepfather, Kevin; Brothers, George and Kenneth; Sisters, Brooke, Gina, and Tara; Niece, Annabella.
Michelle was born in Coral Springs Florida and grew up in Melbourne. Michelle attended Melbourne High School where she was a cheerleader and a member of the Academy of Business and Finance. Michelle held multiple jobs in the service industry but her love and compassion for animals was remarkable. She most recently started work as a pet technician where she excelled.
Michelle will always be remembered for her free spirit and brilliance. She was never afraid to be unique. Michelle was a girl who had fierce love for her family and friends. She was a beloved daughter, sister, aunt, and friend.
A celebration of life will be held at Brownlie-Maxwell Funeral Home on Friday October 26 between 5 and 7pm. Floral arrangements provided by Blossom House Florist. Donations can be made to: To Write Love on Her Arms ( www.twloha.com ), a non profit movement dedicated to presenting hope and finding help for people struggling with depression, addiction, self-injury, and suicide.
We love you Michelle My Belle. You are our sunshine, our only sunshine.
13 entries.
Michelle, your beautiful spirit is truly free now. I love you and you will always be remembered as the sweetest and kindest girl in the world.
Denise and Family, I am heartbroken to hear about the loss of your beautiful Michelle! You have been on my mind & in my prayers and I will continue to pray for God's comfort & peace for you and the family.
Denise & Family, I am so very sorry for your loss. My heart goes out to you all as you go through this extremely sad & difficult time. I'm thinking of you all sending my love & prayers your way!
My heart aches so, but I know you are at peace now. I love and miss you so and can't wait to see you again. xoxox, Aunt Sandy
Dear Denise and family, I was very sorry to here of your daughters passing. Please know you are in my prayers. Bonnie
My heart aches for you.💔 I wish I still lived in the area... I'd definitely stop by. Please know I share in your sorrow and am keeping you in my thoughts and prayers. 🙏Hold on to each and every memory as they are precious ♥️ Ruthie
My heart goes out to the family. Much love to find happiness in your great loss.
We love you to the stars ✨ and beyond. You are going to soar among the angels and never be more loved then you are now.
Shelly belly... I love you! We will always take you with us on the next adventure life gives us. I will always make sure to dance in the car when I hear your songs. You name will always still be spoken regularly because to me and my family you will never be gone. My bestie.
I will remember you , i will remember you on days that have no special meaning. I will remeber you because you where in my life, and had made memories in my story. We are family ,and not being able to be there, not being able to see you one last time does not bring the closer one needs. I hope you knew how beautiful you where, how smart, how loved and how missed your going to be.
Michelle always had such unique mind; externally she was always able to find the positive. She embraced her uniqueness, opinions and spirituality. Growing up and having her be the little sister of my best friend I have so many fond/yet funny memories. She was always well liked and well received. She was love. She is missed and survived by so many people. I hope you all find peace knowing she is at rest. You have one beautiful guardian angel looking down. Lots of love and prayers of healing to the entire family and close friends.
I love you my baby girl ❤😘🌻
Denise, Ken, Tara and family, I have no words of comfort because they won't comfort you. I have no sage advice to move through what you are in the midst of. It would never work. I have sorrow. Very much sorrow. I have gratitude I got to see her in the summer and she was wonderful. I will hold onto her excitement to be home and hanging on my arm telling me she loved me. I loved her too. My heart has a hole. THIS is not supposed to be the way life goes. I send you all my prayers that the angels escorting her to a perfect love return to give comfort and strength to you all as you remain behind to miss her. I pray for peace as you conquer each emotion and hurdle. This journey is not easy. Never for a parent or sibling. No love is like that of yours. Keeping you in tight prayers. She will forever be my Chinese Kissing kid. I still smile when I remember her innocent curiosity and the tender age where things were literal. Shush always part of my 4-pack. Fondly, Mary