Norman Francis Fain, Jr. M.D.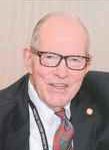 Born in Gadsden Co., Florida, on August 13, 1931
Departed in Melbourne, Florida, on July 25, 2019
Frank Fain was born on the family farm, Fain Hill, on August 13, 1931 in Quincy, FL. He graduated from Quincy High School and earned the rank of Eagle Scout as a young man in the Boy Scouts. He then served in the United States Army, Signal Corp, in Korea. Frank graduated with a Bachelor of Arts degree from Florida State University in 1957, where he was a member of the infamous Flying High Circus and Kappa Alfa Fraternity. He later graduated from the Medical College of Alabama in 1962.
After his internship, Dr. Fain established his private medical practice in Melbourne, FL in October of 1963. He became a member of the American Medical Association, was the Past President of the Brevard County Medical Society and on the Holmes Regional Medical Staff from 1963 – 1999. He was honored to be placed on the Emeritus Staff. He practiced medicine in Melbourne for 32 years, retiring in 1995.
Upon retirement, he combined medicine with travel participating in Locum Tenes which took him across the United States to Alaska, Vermont, Michigan, North Carolina and Wisconsin to name a few. He obtained medical licenses in 12 States.
Frank later became a pilot and earned the following ratings: CF II, Sea plane and commercial pilot. With a never-ending passion for the practice of medicine, Frank continued to do FAA pilot physicals out of his home.
Frank was a lifelong member of the NRA and an avid outdoorsman. He was a member of the Melbourne Hunting and Fishing Club and enjoyed hunting, and deep-sea fishing on his boat the "Hobo."
Frank and his wife Jo Ann loved to travel. Together, they went around the world twice, visiting such favorite places as: India, Thailand, Norway, Nepal, Japan and most of Europe.
Frank's passion was Florida State University. He was a past Board Member and Life Member of the FSU Alumni Association, National Seminole Boosters Chairman (1991), Board Member of Seminole Boosters, Foundation Board Member and active in the Brevard Seminole Club. He was enshrined into the FSU Circle of Gold.
Frank passed away on July 25, 2019.
He is predeceased by his parents: Norman Francis Fain, Sr. and Martha Virginia (Thomas). Sisters: Tamsy Armstrong and Virginia Hartje.
He is survived by his sister: Mary Jo Allman (Robert). His beloved wife of 33 years, Jo Ann. Daughters: Lynne Fain, and her children Robert and Mary Sylvia. Laurie Greenwald (Philip) and their children Jared and Ethan. Step-sons: John Gamin (Rosemary) and their children Jackson and Piper. Robert Gamin (Tammy) and their children Tanner and Morgan, and numerous nieces and nephews.
Family visitation will be on Saturday, August 3rd, 1 – 3 p.m., Brownlie – Maxwell Funeral Home, 1010 Palmetto Avenue, Melbourne, FL. 32901. A memorial service will be on Saturday, August 24th at 1 p.m. at the First Baptist Church of Quincy, 234 West Washington Street, Quincy, FL.
Dr. Fain was passionate about education. Anyone wishing to make an expression of sympathy is asked to consider a donation to Seminole Boosters, P.O Box 1353, Tallahassee, Fl. 32302 in his remembrance.
14 entries.
Dr Fain was a great AME. I would ask a question and he was always great with his counsel and advice. I admired him a great deal and sent my kids to him for their needs as well. You will be missed.
We became patients of Dr. Fain when he began practice here and were for many years. He was considerate of his patients and was close by when his office was on N. US 1 at the edge of Loveridge Heights. An interesting person with lots of avenues serving others.
I will always remember Dr. Fain from my Hoover Junior High School days when we would have sleepovers with Lynne at their home and dance the day away to the sounds of the jukebox. His laughter and friendliness toward young people will always be remembered. Condolences to the whole extended family from me and the Getson family.
This truly saddens my heart. Dr. Fain was an incredible person and I just loved listening to his adventures of travel. My prayers go out to his wife Joann and his family. Rest in peace Dr. Fain. You will truly be missed.
Dr. and Mrs Alfred Tortorelli
Jo Ann, our deepest sympathy to you and the family. Doc was a great friend and will surely be missed by all who knew him. A great life, well lived. Rest in Peace Doc. Durward and Kathy
My heartfelt condolences to Jo Ann and family. Dr. Fain I knew first as my doctor and and later in life a friend . I will remember his love for FSU, his enjoyable laugh, commitment to education and his kindness. May God bless all of the family and Doctor Fain.
I have fond memories of spending many hours at the Fain residence on Riverside Drive, and many fishing trips on the Hobo with Dr. Fain. RIP Frank!!
A very special man to our entire family. Dr. Fain and Jo Ann were both there for us during a very difficult time. Dr. Fain helped Wanda to be able to advance her degree to become a RN. Dr. Fain was the main reason our son James choose to attend FSU. He Will be missed.
Dr. Fain was our family doctor for years! What a great guy with a booming laugh and tons of compassion. I am so pleased that he had such a great retirement. The world has lost a true gentleman. RIP, Dr. again.
My condolences and prayers for the family.
Dr. Fain You were there for me as a young man when no one else was. I am forevermore indebted to you . May you Rest In Peace. Your Friend Tim Burklew
Deepest sympathy JoAnn and family Dale and Jan Clear
Dr. Fain was my family doctor in the 1970's & 1980's. He was always kind and considerate of whatever problem I or one of the kids was having. So sorry to hear of his passing.