Opal Day Rollins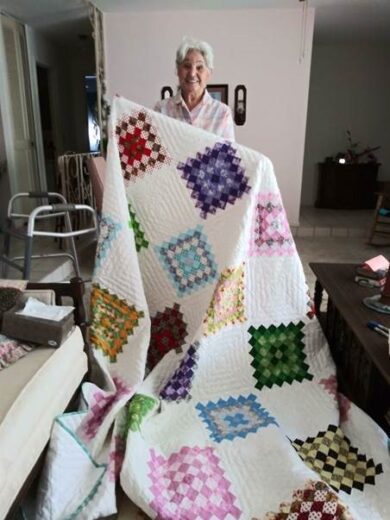 Born on September 26, 1922 in Yaeger, West Virginia
Departed October 11, 2022 in Titusville, Florida
1922-2022
Opal was a lifelong quilter, hand sewing all of her quilts. Her last one, a queen size, was finished this past August. During WWII she worked in a Naval ordnance factory with her sister, Jean, in South Charleston, West Virginia making barrels for the big guns on ships. She worked for several years in sales at the Diamond Department Store also in Charleston, West Virginia.
In 1965 our family moved to Florida. Opal went to work for Radiation Inc. in 1966. Radiation would later become Harris Corporation. She worked there in assembly and worked on components for the Lunar Excursion Module (LEM) for the moon landing. She worked for Harris until 1980 when she retired for medical reasons.
Opal enjoyed time with her family. She had two daughters Sharon Brinkoetter and Beverly Cleaves; two grandchildren Lori Fitch and Danen Cleaves; three great-grandchildren Melissa Calvert, Rick Chorny, Eli Fitch; and five great-great-grandchildren Peyton, Zachary, Lillian, another Lillian and Delilah.
She was lovingly cared for until the end by St. Frances Reflections. St. Francis Reflections Lifestage Care | Brevard's Comfort Care Resource (reflectionslsc.org)
2 entries.
Opal and Bob were longtime members of Bowe Gardens Baptist Church. We have known them for many years past. Opal was a beautiful, kind, soft spoken lady, loved by all who knew her. Our deepest sympathy and prayers for the family. Love, Brenda & Jm Townley
Opal was the sweetest lady with a beautiful smile! I met her many years ago at Bowe Gardens Baptist Church. She will be missed!