Paisley and Aubrey Arnold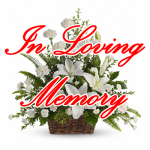 Born and Departed in Oklahoma on November 18, 2019
Paisley and Aubrey Arnold, identical twins, passed peacefully in the arms of their loving parents on November 18, 2019. Paisley was born at 9:53am, Aubrey was born at 10:09am and they met the eyes of Jesus the same day.
Paisley and Aubrey were the daughters of James and Bobbi Jo Arnold of Wister, Oklahoma.
They are survived by three siblings: Haley, Anthony, and Brantley, all at home. Their paternal grandparents: Ray and Mary Arnold of Melbourne, FL; and their maternal grandparents: David Brink of Shickshinny, Pennsylvania, and Shawn and Meshallie Jaeger of Wheatland, Wyoming. Their paternal great grandparents: Bill and Laura Jean Arnold of Palm Bay, FL; and maternal great grandparents: Leroy and Martha Caine of Wichita Falls, TX and Roy and LeAnn Inells of Carpenter, Wyoming.
Paisley and Aubrey were preceded in death by their great grandparents: Mary Andrews, Elwood Brink, Matthew and Beatrice O'Brien, and Martha Dennis.
A service was held on Thursday at Evans Chapel of Memories in Poteau, Oklahoma. Burial will take place at 3pm on Saturday, November 23 at Kenansville Cemetery.
1 entry.
I will always love my sweet angels. I wish the day would of came I could of met you and held you and give you all the kisses I was supposed to be able to do. You are in good hands now. Love you till we meet again. Love grandma and papaw