Pamela Higginbotham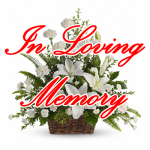 Born in Ormond Beach, Florida on October 20, 1957
Departed in Palm Bay, Florida on November 5, 2019
Pamela Higginbotham, 62, went peacefully to her Father's Garden on November 5th, 2019 at the William Childs Hospice House in Palm Bay, Florida.
She was born in Ormond Beach, FL on October 20, 1957, daughter of the late Harry and Irene Stahl. Pam lived a fulfilling life as a Wife, Mother, Grandmother, (Mawmaw), Sister, Aunt and friend. Pam is survived by her husband of 41 years William, children Stacy and Billy (Sara). Proud Mawmaw to Wyatt, Makayla, Liam, Emilie, Kiara and A'niyah. Pam's siblings include Brenda, Susan, Debbie, Eileen, Harry, Steve and Raymond.
Pam was devoted to the Church. She was an active member of Bowe Gardens Baptist Church and participated in a variety of Church functions including Vacation Bible School. Pam was a social butterfly who loved playing Bingo, Nickels and Bunco. Her love of flowers inspired her to open a flower shop, All City Florist, with her sister Susan. She loved making sure her customers were always smiling no matter the circumstances.
Pam will be missed by many but will live on in our hearts and souls.
A Celebration of her Life will be held on November 16, 2019 at 11 AM with doors opening at 10:30 at Bowe Gardens Baptist Church, 2700 Sarno Road, Melbourne FL 32935.

9 entries.
Love and miss you aunt Pam
I know its over 2 years late but here i go. thank you for loving mom and dad like your own parents.I,m was and are going through some things at that time you know brad died. I miss and love you pam.. love Connie
Sweet Pammy, Heaven gained an Angel, I know you are now in a beautiful place in the arms of our God and surrounded by loved ones. I will always love you and have you safely tucked away in my heart. I will miss your beautiful smile and the love that you shared with all of us. Rest In Peace my beautiful Pammy. Love you to the moon and back and beyond. Aunt Mary Lou ❤️
My Dear Friend Pam.. You were more than my friend you were more like a sister. We had some great times on our girls trips and shenanigans. You are going to be truly missed by us all. I love you Girl!!!!!
Sweet Pam, As you walk in the Garden with our Lord, you are not alone. You have so many loved ones that welcomed your sweet soul as you entered the gates of Heaven. The Angels are rejoicing at the entrance of a true Child of God! We miss you smile and kind heart! Until we meet again sweet cousin, know that we love you bigger than the moon and deeper than the sea!! Love you Honey! April, Jim and family
May your new found wings carry you far. Loved and missed by all. . To the Higginbotham family, I am truly blessed to have met a wonderful Lady. May the Strength of our God's loving arms comfort you I'm your time of sorrow.
Love you Pam. Miss you already !
What a love you were! We will forever be grateful to have known you and shared in your laughter! As John always called you, "Trouble"...you will no longer be, but you'll be enjoying every single moment in our Fathers house with your beloved ones already there...RIP Pammy...