Patricia "Patti" Ann Reese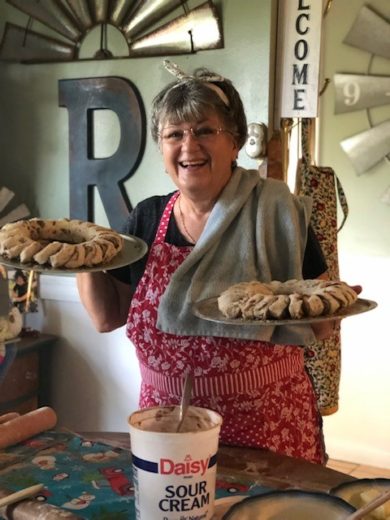 Born on November 8, 1956 in Dallas, Texas
Departed on August 3, 2021 in Palm Bay, Florida
Patricia "Patti" Ann Reese, 64, of Malabar, Florida passed at William Childs Hospice House in Palm Bay on August 3, 2021. She was born on November 8, 1956 in Dallas, Texas to Charles Max and Minnie Evelyn Gray White.
Her family includes her husband of 45 years Robert Kemp Reese, daughters Stacia (Anthony) Corpora, Katie (Chris) Clark, Elizabeth (Josh) Knowles; son Robert Kemp (Brittany) Reese, Jr.; sisters Theresa (Jeff) Clay and Tina Hussey; and grandchildren Tanner, Chase, Gage, Blane, Hayden, Kemp, Kase.
She was preceded in death by her parents Charles and Evelyn White and her brother Charles "Snuffy" White.
Patti attended Calvary Chapel. She enjoyed quilting, baking, crafting and was an animal lover. She was the best homemaker and the best Geena to her grandchildren.
Her family is planning a celebration of her life on Saturday, August 7, 2021 from 1 until 4 pm at the residence. Please consider donations in her memory to: Florida Baptist Children's Home,
1015 Sikes Boulevard, Lakeland, FL 33815 (be sure to list Patti's name)
FL Baptist Children's Home
14 entries.
Thoughts and prayers for the entire family while they celebrate and always remember the life of this great lady..
Best lady ever! Love you so much! 💛
The world desperately needed another angel. You will be missed but we will carry you in our hearts forever.
Oh Katie and family, I am so sorry to hear of the loss of such a wonderful, amazing person! The times I met her were always sweet and truly adorable. I can't begin to imagine the pain and heartbreak you are experiencing. Please know that you are in my thoughts and prayers. Without a doubt, Mrs. Patti is smiling down from heaven! Sending my condolences, prayers and hugs, Holly Reed Jones
I only had the privilege of meeting Ms Patti once back in the spring. I could feel the love of her family as we enjoyed one of her good days over lunch. I was the outsider and she went out of her way to welcome me to the table. Prayers for peace and comfort for her many friends and family
Words can't express the woman my mom was! The kindest, most self-less person to ever walk this earth. I don't say that just to say it, it's 100% the truth. Her life was a testimony to the way God calls us to live- serve others, show kindness, treat others the way you'd like to be, live so others can see Jesus. She'd always say, "Katie, you may be the only Jesus someone sees." I pray I can live my life to make her proud. She will be missed every second of everyday! I know her mansion in heaven looks just like something out of Southern Living Magazine like we discussed! I know her crown is bigger than she can carry! Love you, Mom! I will miss you always!
Patti was such an amazing woman and I was so very lucky to be able to call her my friend ❤️ She treated me like one of her daughters and sometimes if I was lucky I got first pick on things she was giving away lol!! I also got the chance to be included in her annual Christmas cookie baking parties! We loved her so much and I will always remember our wonderful times together:)
Our prayers and thoughts are with all of you during this difficult time!! We only had the opportunity to be around Patti, but you could tell immediately Patti was a remarkable lady!! Prayers, Hank and Jeannie 🙏🙏🙏🙏
Sending my love and prayers to family Patti's family! I remember Patti as a young mother at the First Baptist Church of Malabar. She was a blessing all who knew her! She will be missed!
I can't express how saddened I am hearing this. Patti was and amazing woman and had a smile that would light up a room. I am blessed to have known her and to have been linked to her by family. She fought the good fight. Stacia, Elizabeth and Rob- you are in my thoughts and prayers. Love, Sharon Maceyak
I only knew Tricia 5 years, but in that short time I learned that she was a beautiful soul! One of the sweetest, kindest, giving souls I've known. I was made to feel like family when with her. Rest in Heavenly peace sweet girl!
My heart goes out to you. I was privileged to have met this wonderful person.