Paula G. Burnam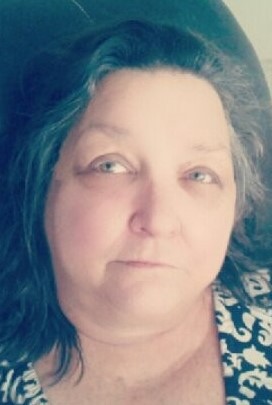 Born on June 23, 1956 Charleston, West Virginia
Departed on November 24, 2021 in Melbourne, Florida
Paula G. Burnam, 65, passed away peacefully on Wednesday, November 24, 2021, at Holmes Regional Medical Center in Melbourne, FL, with her niece and sister-in-law beside her, praying over her, and her daughters telling her they love her. She was born June 23, 1956, in Charleston, WV to Fleet and Martina (Withrow) Burnam.
She was a 1974 graduate of Melbourne High School. She married Mike Cadieu in 1977; they had a daughter and a son. She was widowed in 1989. Paula was a homemaker and later entered in crafts shows and sold her homemade crafts. She also catered weddings and events and baked cakes to sell. She was an incredible cook, baker and creatively talented at making things with her hands. She married Jerry Murdock in 1999; they also had a daughter and a son. Paula became "Grammy" to the light of her life when her first and only grandchild, a beautiful baby girl who she called her "Girlfriend," was born in August 2018. Paula loved crafting, cooking, baking, entertaining family, playing Farmville 2 on her computer, and drinking some cold beer. She was a selfless woman who always put others needs before her own, especially those of her four children.
She is survived by her daughter, Ashley Cadieu and partner Tom; daughter, Sarah Murdock and partner Demitris; son, Garett Murdock; granddaughter, "Girlfriend," Scarlett Sage; sister, Linda Deal and husband Frank; special niece, Gina Damm; estranged husband Jerry Murdock; and many nieces, nephews, cousins, and friends. Paula was preceded in death by her son, Michael Cadieu, husband, Mike Cadieu; father, Fleet Burnam; mother, Martina Burnam; brother, Gary Burnam; and, regrettably, several other loved ones.
The family is planning a Celebration of Life for Paula on Sunday, December 12, 2021, at a location that is yet to be determined. A luncheon will follow so that family, friends, and others whose lives Paula touched can gather to visit, reminisce, maybe drink a cold beer in her memory, and remember Paula's beautiful life.
16 entries.
<3 Drinkin some cold beer for you, mama!
Forever and a day, mom <3
Where to start and end...I can't or I would be here for days. Paula...it's still so unreal you're not here. Just feels like you've gone on an adventure and will be back shortly...but what an adventure you're on. It gives me peace knowing you're at peace, no more pain or grief. You were with me for 50 years and in those years have gave, been there, supported me and been my friend. You were my confidant,a teacher not traditions, my rock, my voice of reason for so long. Then you gave me the greatest gift there was...Ashley and Michael. A little later down the road came Sarah and Garett. We had the best times, all of us together 90s Palm Bay, Fl. I hold those memories so close. We endured a lot together and we all got each other through it. You always said I was your first child, not just a neice...I like to think I gave you just as much love as a daughter could. I'll miss you always...you'll always be with me. ♥️ Gina
You will be missed greatly Paula! You have touched many lives in such a positive way! You are loved dearly and will never be forgotten. Until I see you again....I love you!
Here's to Paula! A beautiful person who spent most of her time helping others. May the Lord bless you and keep you!
Paula will be greatly missed by so many people. I am grateful she was a part of my life for so many years. I am thankful we remained close and I could be a part of her children's life. I will continue to watch over them in years to come. She was always willing to help others. She was a wonderful cook and shared her talents with many people. She also made beautiful crafts. We had fun being at the Cocoa Village Arts & Crafters show for several years. I have years of memories that I will cherish forever. To her family, I'm sorry Paula left us sooner than expected. My prayers are for you all to find peace and comfort in knowing she is now with loved ones in heaven. God's blessings to everyone.
So sad for your loss Ashley. Know that I'm thinking of you and send my love and prayers to all of Paula's family.
I love you my dear cousin !! My love and prayers to your family !!
So sorry for your loss I am a F/V and F/B friend I will miss seeing her God Bless you all
Mama, I still can't believe this is real. I can't believe I'll never see you or hear your voice again. There's still so much more I had to ask you, things I need to know. I'm so grateful for our 43 years together, but I will always want more time. I don't know how to navigate this life without you in it. I still pick up the phone to call you or go to message you on Facebook, knowing that you would ignore me until you were done watering your crops on FV2 anyway. I love you more than anything in this world. Watching you take your breath, broke me in a way I have never been broken before. I promised you I would take care of our little family, that we would take care of each other, and I truly will do my best. I just don't know how to deal with this right now. In my heart, I know you are at peace. I know your reunion with Michael was a beautiful one. I'm actually jealous of it. Now I have to go on without you both. I know it's selfish, but I still want you here. I want Sarah and Garett to have more time with you. I want you here to see Scarlett grow up. My heart is so broken. I love you so much. One thing I know for sure, I will see you again. Until then, keep an eye on your babies here in earth until we're with you again. I promise, we'll find a way to dance again. It just may take a while. Love, Do.
I know you only on FB and FV2, but you will be really missed. x
I will miss my friend❤️ My heart hurts for all of you! I wish I could be there on December 12th!! I pray that Heaven has reunited her with family! Happy trails girlfriend, till we meet again
God Bless and keep Paula and all of her loved ones..always.
With loving thoughts and prayers ❤️🙏🏻 Mike, Diane, Lauren &Libby
What can I say about Paula? I have known her for half my life. She made me feel like I was part of her family. She was the one to come up with my daughter's name. To me she is family...I am really going to miss her. ❤