Payton Kathleen Watson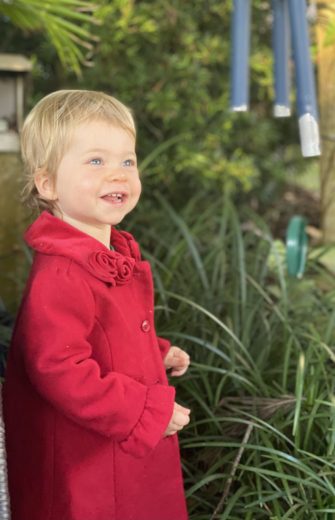 Born on July 12, 2020 in Melbourne, Florida
Departed on January 27, 2022 in Grant-Valkaria, Florida
With deepest sorrow we announce that Payton Kathleen Watson, our beloved daughter, granddaughter, great granddaughter, niece, cousin and friend left this world unexpectedly on January 27, 2022. She was born in Melbourne, Florida on July 12, 2020 to Tim and Jessica Watson.
Whether a play date, Sunday dinner or a visit from family, Payton took delight in being with those who loved her. She loved learning to play the piano, reading books, throwing a frisbee or ball, boats, and being outside in nature. She was drawn to animals and flowers, and shared her joy with those around her. Payton inspired us to live in the moment and cherish the simplest things in life. We will always remember her infectious smile that was often instigated by her fur brothers Murphy and Parker, and her strawberry blonde hair which was either wild bed head or soft sweet ringlets. She could be shy and sometimes a little stubborn, but when you finally got to know her, she would reveal her caring personality. Her presence in our lives will be sorely missed.
When you think of Payton, celebrate the good memories you have of her. Remember that life is fragile and short and should be lived to the fullest.
Payton was preceded in death by her great grandmothers (maternal) Kathleen Tuten and (paternal) Mary Hughes; great grandfather (paternal) Jerome Watson; and Aunt Kimberly Tuten. She leaves behind her parents Tim & Jessica Watson; grandparents Keith & Debbie Tuten and Jerry & Kathleen Watson; great grandmother Pat Watson; great grandfathers Robert Tuten and William Hughes (recently passed); numerous aunts and uncles and countless cousins. She loved spending time watching birds and interacting with chickens, ducks, and horses with her cousin Rachel and will miss hugs from her friends Briana, Lauren, and Uncle Dax.
Brownlie Maxwell Funeral Home has been entrusted with her funeral arrangements. A memorial service will be held in the Sanctuary at Suntree United Methodist Church, 7400 N. Wickham Road, Melbourne on Thursday, March 3, 2022 at 11am. The family invites all who knew Payton to attend to celebrate her life. For those who wish, in lieu of flowers, Payton's family would appreciate donations in her name to the Town of Grant Valkaria for the construction of a toddler playset at the community park.
22 entries.
God is hugging her close. She is one of the littlest Angel's.
Our sweet Payton. Our hearts are so heavy with your passing. We mourn that we never got to know you, both before and after your birth due to this awful pandemic. You were blessed in this world with so many people that love you and will miss you. But even though your time was much too short, your impact was big and you will never be forgotten. Our prayers are with your Mommy and Daddy, Grandparents and all your Aunts, Uncle's and Cousins and all that love you so very dearly. Rest in peace sweet angel. We will all be together again one day. With Love Your great Aunt and Uncle Wendy and Bob Xoxo