Peter Blake Ostrosser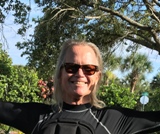 Departed in Palm Bay, Florida on August 2, 2018
Peter Blake Ostrosser was born in Fort Lauderdale Florida, son of Patricia and Peter Ostrosser. He died of Metastatic liver cancer on 8/2/18 In the 1960s the family moved to Deerfield/Pompano Beach Florida where he first learned to surf in 1963 and continued to surf the rest of his life. He graduated from Florida Atlantic University in 1978 with a BA in political science. He continued "anthropological "studies on the North Shore of Hawaii in 1972-73. Blake moved to Brevard County his new home in 1982. He married the love of his life Sharon Denton in 1995. His other passions included his Catholic faith ,a convert in the Jubilee year 2000, Serving as an extraordinary minister of the Eucharist. Due to his love of music he spent hours listening and watching his wife Sharon play bass. And then they joined together with Blake singing and Sharon playing in the praise band at Immaculate Conception church in 2016. Sharon and Blake combined surf trips and pilgrimage trips with Blake surfing in France Portugal and Spain while also visiting Lourdes,Fatima and Covadonga together. Their final pilgrimage together was a life changing ,faith restoring pilgrimage to the Holy Land in 2017
He is survived by his wife Sharon and sisters Lindsey,Gale and Jill and predeceased by his Parents and Brother Lance as well as his nephew Jesse. His dogs Bella and Brady miss their "daddy". He was loved by a large extended family and friends who all thought of him as their brother .
Funeral service will be Friday August 17 @ 3 :00 pm at Immaculate Conception Catholic Church 3780 S Hwy A1A. Melbourne Beach Fl. With a paddle out and reception to follow.
In lieu of flowers please donate to the charity of your choice that helps teens and young people with addiction problems.
2 entries.
I miss you everyday. I wish I hadn't taken time for granted. I am I love and cherish your memory. I will forever walk with the influence you made in my life. I love and miss you give uncle Lance and grandma and grandpa a hug for me.
Dear Blake rest in peace my friend. You have touch so many people in this world and have made a huge difference. Your a kind and loving sole and I'm honored to have meet you. Thank you for finding and cherishing Sharon, my dear friend. Seeing you two together has been a blessing. Thank you.