Raymond T. Grady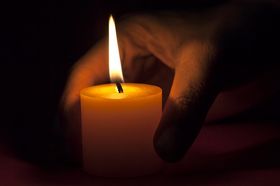 Born on April 28, 1943 in Waterbury, Connecticut
Departed April 16, 2023 in Palm Bay, Florida
Raymond T. Grady, 79, was born in Waterbury, Connecticut on April 28, 1943 and passed away April 16, 2023 in Palm Bay, Florida.
Ray was a retired salesman for Kelly Ford and Sunshine Dodge in Melbourne, Florida.
He was a member of Masonic Lodge 387 in Palm Bay, Florida and a 45-year member of AZAN Shrine Temple in Melbourne, Florida.
Ray is survived by his wife of 45 years Donna; sisters Marilyn Rhyne, Ann Butts and Shirley Carbone.
His memorial service will be held Friday, April 28, 2023 at 11:00 am at Brownlie-Maxwell Funeral Home, 1010 E. Palmetto Avenue, Melbourne, Florida 32901.
6 entries.
Ray was as honest as honest could be. My husband Skip and I leased cars and trucks from him at Kelly Ford And our son bought a Truck from him at Sunshine Dodge. They threw the mold away. When they made him. So sorry for your loss Donna. I lost Skip last year.
Good bye to one of the greatest car salesman God has ever made.. They do not make them like Ray anymore. May God rest his soul.
Ray was one of the finest persons any one could know,a first class gentleman with a heart of gold.,strong headed ,tough and forever fair to every one he dealt with.An excellant individual that will leave a lasting impression and will be missed by all.god bless him and many prayers and condolences for his beautiful wife Donna,his family and all who knew him
He was a great man and loved by many and a very dear friend of ours for many years. May you rest in peace our dearest friend. My love goes out to Donna and her family as well as Ray's sisters and their families.
I am heartbroken over the loss of my brother. I will miss him terribly. Much love to speed him on to his next step in this circle of life. I love you Ray.
Worked with him for many years at Kelly Ford. He seemed to know everyone in town and sold the heck out of Ford trucks. Rest in Peace my man.