Regina Rae McKenzie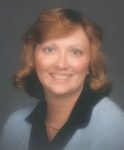 Born in Boyd County, Kentucky on May 4, 1959
Departed in Melbourne, Florida on October 2, 2019
Regina Rae McKenzie departed this life to find comfort and rest in her heavenly home on Wednesday, October 2, 2019 after a lengthy battle with cancer. She was born May 4, 1959 in Boyd County, Kentucky. She is survived by her loving parents, Bonnie and William Craycraft, Daren (Karla) McKenzie, half-sister, Megan (Rob) Butler, and nephew Joey, step sister, Jennifer (Ernest) Blankenship, step brother, William (Catherine) Craycraft, Jr., Aunt, Nadine, (Don) Cline, cousin Donna (John) Entsminger and their son Alex Entsminger.
She now will be re-united in heaven with her brother, James Daren McKenzie, who preceded her in death.
Regina graduated with honors from Paul Blazer High School in Ashland, Kentucky, The University of Kentucky and the University of Central Florida.
She was an employee with the Brevard County School System for 20 years, with most of her time spent working with special needs students at Jupiter Elementary school in Palm Bay, Florida where she was affectionately known to her students as "Miss Kenzie". She was dedicated to her students and spoke of them lovingly and often. Regina was an avid reader and loving pet owner; you could often find her curled up with a book and her pet dog Ziva on her lap. A celebration of her life will be held at a later date. In lieu of flowers, contributions may be made to the American Cancer Society or the Humane Society in her memory.