Rev. Francis X. J. Smith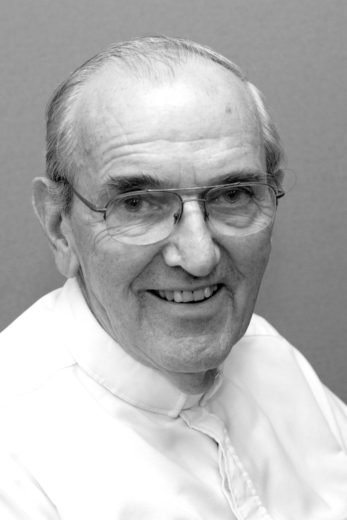 Born on March 22, 1931 in Philadelphia, Pennsylvania
Departed July 26, 2022 in Melbourne, Florida
Father Francis X. J. "Frank" Smith was born the youngest of eight children to Eugene Vincent and Mary Brennan Smith on March 22, 1931 in Philadelphia, Pennsylvania. He passed on July 26, 2022 in Melbourne, Florida.
He attended Catholic schools in Philadelphia and after graduating high school worked before being drafted into the U.S. Army in 1952 to serve in Korea. After his honorable service he attended La Salle College on the G.I. Bill earning a degree in industrial management. Later he entered St. Jerome Seminary College, Ontario, in 1959 to study for service as a Priest in the Diocese of St. Augustine. He received an appointment to continue his seminary studies at the American College of the University of Louvain, Belgium in 1960 and was ordained in Louvain on June 27, 1964.
Father Smith served at several parishes and schools in the Diocese of St. Augustine and the Diocese of Orlando: St. Martha in Sarasota, teaching at Bishop Barry Catholic High School, St. Petersburg. He was appointed Pastor of Blessed Trinity Catholic Church, Ocala (1966-1976). After a study sabbatical at the University of Louvain he returned and worked for two years on the establishment of a Diocesan permanent diaconate program, and as Pastor of Good Shepherd Catholic Church, Orlando. He was appointed Pastor of Epiphany Catholic Church, Port Orange (1981-1989), and Pastor of Ascension Catholic Church, Melbourne (1989-2001). While at Epiphany, he renovated the church and built Epiphany Manor, an affordable housing complex. While at Ascension he built a new school and Ascension Manor, another affordable housing complex. Other assignments and ministries included chairman of the liturgical commission, diocesan director of evangelization, forming the Commissioned Lay Ecclesial Ministry Program, member of the Presbyterial Council, counseling the incarcerated, and working with farm workers. Father Smith retired in 2001, yet continued to serve for several years at St. Margaret Mary Catholic Church, Winter Park. He is known for his joyous sense of humor and warm heartedness .
He was preceded in death by his parents and his siblings Alice Smith, Thomas Smith, Eugene Smith, Joseph Smith, John Smith, Vincent Smith, and Marie Smith Mintern. He is survived by his many nieces and nephews. He is beloved by his family, fellow Priests and God's holy people.
Family and friends may call on Monday, August 1, 2022 from 10 am until time of his Funeral Mass at 11 am at Ascension Catholic Church, 2950 N. Harbor City Boulevard, Melbourne, Florida 32935. A reception will follow in the parish hall with burial following at Queen of Angels Catholic Cemetery, 1901 Queen of Angels Drive, Winter Park, Florida 32792 at 3:00 pm.
10 entries.
Dear Fr. Smith, You will be so missed, we had so many memories in Ocala. To my children you will always be HIM.. Thank you for all you did and what you mean to us. We will always remember you.
Franny Smith and I were 8th grade classmates at Ascension School, Philadelphia, PA. I, and others, helped Fr. Frank arrange our 50th grade school reunion in 1995. My wife, Dot and I visited with Father Frank several times over the years and were privileged on those occasions to be present at his morning Mass after which we went to breakfast. Our periodic telcons continued until shortly after he entered Hibiscus. We will miss him. R.I.P. Father Frank. Please-ora pro nobis.
May Father Frank enjoy his heavenly award. I am the widow of George Spanfelner who met "Smitty" at LaSalle. I had the honor of having Father Frank on the altar during my Nuptial Mass in 1972. Condolences to his family.
Fr Smith was loved by so many during the 10 years he served st Blessed Trinity in Ocala, FL I will always think of him as my parish priest! He will be missed!
Frank was the greatest pastor in our American College class of 1964. He was a wonderful friend and the one who above all kept us all united. We sorely miss him.
Fr. Frank was like a father to the members of the seminary Class of 1964, Louvain, Belgium. He maintained contact with all of us and organized our biennial reunions at Winter Park. We all, my wife (Gretchen) and I included, will miss his frequent phone calls, his leadership and his jokes.
May God comfort all who knew Frank, a good and kind soul. Love, Maria
I will let the Northeast Catholic Alumni Association know about Fr. ,Smith passing away. We will remember him in our prayers. Rest In Peace!
Fr. Frank was a great friend to me and to my family for 40 years. He was a part of our family. He is truly missed by me and by my family and friends. We have fond memories of dinners, trips to Europe, including his pulling strings so we could meet Saint John Paul II in Rome. He was of great support when we lost our mother. He even flew to NH for the funeral Mass. He was a Blessed friend and will be truly missed. God Bless You Fr. Frank. Know you were truly loved!
Uncle Frank, You were such a light in this world. I will never forget your calm presence and all your jokes! May you rest in the joy of Christ.