Richard Lee "Rick" Lawson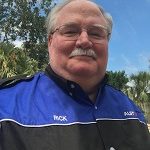 Born on April 16, 1960 in Oklahoma City, Oklahoma
Departed on September 3, 2020 in Melbourne, Florida
Richard Lee "Rick" Lawson went to be with his Lord and Savior Jesus Christ on September 3, 2020, at the age of sixty. He received Christ as his personal Savior on October 16, 1988.
Richard was born in Oklahoma City, Oklahoma on April 16, 1960, to Fred Russell Lawson and Mary Frances Lawson. As the youngest of three boys and the child of two life-long educators, Rick learned the value of never ceasing to pursue knowledge and wisdom.
Rick graduated co-valedictorian from Alva High School in 1978 and attended Northwestern and Oklahoma State University where he received his Bachelors of Science in Electrical Engineering in 1983. Rick spent his career at General Dynamics and Lockheed Martin in Fort Worth, Texas, from 1983-1999, Harmon Industries and General Electric Global Signaling in Grain Valley, Missouri, from 1999-2009, G.E. and Alstom in Melbourne, Florida, from 2009-2020.
While a Senior in high school, Rick met his best friend and love of his life, Vickie Sue Fender, whom he married on August 2, 1980, at First Baptist Church of Alva, Oklahoma. Rick, as a devout Christian, was an active member and deacon of Central Baptist Church, in Melbourne, Florida. He faithfully served not only his family, church members, local citizens, but also many other people throughout the nation, as he willingly shared his salvation testimony, as part of Life Action Ministries, from 1988 till his death.
Rick was a steadfast family man, guiding his wife Vickie and eight children through the call to Christian home education and pursuing God's individual call on their lives. He quietly upheld the convictions of stewardship, godliness, integrity, and humility. Rick was an active constituent, holding his local, state, and federal representatives accountable to the moral standards he desired for his country. He was a simple man, enjoying quiet time with family playing games, guitar, singing and above all guiding his children in pursuit of God.
Rick was preceded in death by his parents, Fred and Frances Lawson, of Oklahoma City, Oklahoma and father in law William "Bill" Fender of Yukon, Oklahoma. He is survived by his wife Vickie Lawson of 40 years; eight children, Amanda Yon and husband Brandon of Bonifay, Florida; Rebecca Goucher and husband Chad of Wasilla, Alaska; Jessica Lawson of Palm Bay, Florida; Sheila Gallo and husband James of Creal Springs, Illinois; Daniel Lawson of Melbourne Beach, Florida; Samuel Lawson of Camp Lejuene, North Carolina; Andrew Lawson of Melbourne Beach, Florida; and Hannah Lawson of Melbourne Beach, Florida. Also surviving Rick are eight grandchildren; two brothers Russell Lawson and wife Sherry of Oklahoma City, Oklahoma and Ronald Lawson and wife Elaine of Rabun Gap, Georgia; Mother in law Vesta Fender Edwards, of Oklahoma City, Oklahoma and Mother in law Lynda Fender of Yukon, Oklahoma.
Rick's celebration of life service is to be held at 10 a.m. on September 10, 2020 at Central Baptist Church of Melbourne, Florida. In lieu of flowers, donations may be made to Life Action Ministries Family Camp. Website : Life Action Ministries Family Camp or mail to: Life Action Camp Attn: Lawson Memorial, 1696 E Clear Lake Rd., Buchanan, MI, 49107

1 entry.
Rick was always a good and faithful servant. Our prayers are with you Vickie and your family. RIP Rick