Richard Lorelle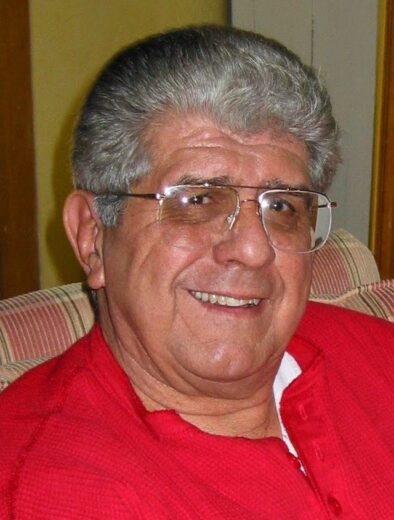 Born on August 31, 1930 in Brooklyn, New York
Departed March 8, 2023 in Melbourne, Florida
Richard Lorelle died peacefully in his sleep on March 8, 2023. He is now with Jesus, but his spirit remains in each of us. He lives on in our memories, shared experiences, relationships, photographs, and mementos. But most of all, through the love he so generously shared.
Richie / Dick / Dr. Lorelle / Dudley / Pop-Pop / Bear / Doc / Grandpa – he was so many things to so many people. A loyal and devoted husband, a proud and loving father and grandfather, a son, brother, uncle, a gifted Veterinarian and a kind and generous friend.
Richard was born in Brooklyn, New York to Ralph Joseph Lorelle and Yvette Bessieres Lorelle. He attended Brooklyn Preparatory. In 1952, he graduated from Clemson University in South Carolina and was commissioned as a 2nd Lieutenant in the U.S. Army. He went on to earn his Doctor of Veterinary Medicine at the University of Georgia. He met his wife Ann on a blind date while they attended University of Georgia. They married shortly after his graduation, then moved to Melbourne, where he began his career as a Veterinarian, practicing for 43 years.
He was an avid Clemson football fan. He also followed the Georgia Bulldogs and all the Florida college teams. He enjoyed golf, racquetball, poker, stamp collecting and traveling. Later in life, one of his favorite activities was spending time at the gym, working out and being with his many friends there. Above all, his faith served as his greatest source of inspiration and personal fulfillment. He was active in his church, having served the Vestry as junior and senior warden, usher, lay reader, & volunteer at the Thrift shop. He formed lasting friendships through Bible study, prayer groups, Foyer groups, and all things Holy Trinity!
He is survived by his wife Ann; children Janet Lorelle, Tom Lorelle (Susan), John Lorelle (Nubia) and Mary Susan Kropf (Jon); grandchildren Sean Fallon, Michael Fallon, Dillon McCarthy, Matthew Lorelle, Adam Lorelle, Natasha Wells, Andrew Lorelle, Rebecca Lorelle, Maggie Lorelle Isola, Ella Kropf and Charlotte Kropf and brother Roger Lorelle.
Until the very end, he maintained his sense of humor, cultivated new friendships and continued touching many lives with his kindness, wit and intelligence. His easy laughter and his big heart will be missed. He had such an impact on so many people (and their pets). His greatest legacy, besides his family, was his ability to positively affect other people's lives.
A Celebration of Life service will be held at Holy Trinity Episcopal Church, 50 Strawbridge Avenue, Melbourne, Florida, 32901 on Saturday, March 25, 2023 at 11:00 am, followed by placement of his ashes in the church Memorial Garden.
In lieu of flowers, please consider a donation to Holy Trinity Episcopal Church:
4 entries.
Richard will always be Dudley to us; he teased us that this was his English name which has, for more than thirty years, been an enduring joke between us. We were still calling him Dudley when we were last together during our Summer 2022 trip to Indialantic. This was, as always, a trip filled with Dudley's warmth and many kindnesses, his wonderful sense of fun, his infectious humour, laughter and love of life. Every year, as our trip drew near, we would laugh with him as we counted down the sleeps until it was time to cross the water, always to find our apartment stocked with provisions and a welcoming note saying "call me if you need anything". One of his last text messages to us was "It's nearly time, bring Alfie". This was a reference to our recently born grandson and we are so pleased that we were able to do exactly that. Our family have grown up with endless happy memories of time spent with Dudley, Ann and the Lorelle Family and, as that is set to continue into 2023, we will miss and never forget the joy Dudley brought to our lives. We are all very sad, but fortunate to have been able to spend so many years in his company.
I first lived in Brevard County in the early 70s. Dr. Lorelle was our cats vet and my father Donne Bland's poker buddy. They had rotating games. After our cat "ate up" Dr. Lorelle at his first office visit, Dick said that cat ain't coming back! Hereafter when it was time for the cat's shots Dr. L would bring them to our house, find the cat sleeping and pop him. Even as a child I remember Dick being larger than life. Fond memories!! He may be playing poker and laughing with my father in heaven now.
Dad, I miss you so much. It brings me great peace though, knowing that you are right where you're supposed to be now. I am so grateful that we had you for as long as we did. I love you always and forever. My world will never be the same without you to hug and hold.
Dick was an amazing man. Always made you feel comfortable around him. He was a wonderful friend to my brother Joe. He will be missed by so many of us. Beth