Robert Allan Collins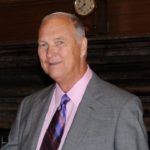 Born in St. Louis, Missouri on November 16, 1940
Departed in Sebastian, Florida on September 8, 2019
Robert "Bob" Allan Collins, 78, of Melbourne and Apollo Beach, FL, passed peacefully September 8, 2019 after a short illness, surrounded by family and close friends. Born November 16, 1940 in St Louis, MO to Robert and Jane Collins, Bob graduated from Westminster College where he was active in Sigma Chi fraternity and ROTC. He earned a Juris Doctor at University of Kansas School of Law. He was admitted to the Florida Bar in 1993 in addition to other states and Washington, D.C. Federal Courts. Bob was an officer in the U.S. Army Armor, Ft. Knox, KY and later in the Army Reserves as a Lt. Colonel. In 1968 he moved to Melbourne, FL, joining Harris Corporation for 27 years, during which time he earned an MS degree in Procurement Management at Florida Institute of Technology. After leaving Florida, he lived in Kansas, Maine and Texas working at several corporations as Vice President and Senior Legal and Business Executive experienced in managing Global and Domestic Legal Functions, Contract Management and Business Development Functions at multiple global businesses for Flowserve Corporation, SPX Corporation and Allied Signal/Honeywell. One of his proudest accomplishments was being admitted to argue before the U.S. Supreme Court.
Upon retirement from corporate America, which he so thoroughly enjoyed, he became active in his church and neighborhood community where he served on their boards and offered legal advice to people in need, and even fried fish for Friday night church fundraisers. Additionally, he was very involved in the lives of his grandchildren – attending activities, being ever so supportive and providing guidance on the way of the world, most importantly how to be a good person.
In addition to his wife Martha Beaujean Collins, Bob is survived by his daughter, Lisa Peart Loosbrock (Tom), grandchildren Will and Ben Loosbrock, Apollo Beach, FL, his sister, Barbara Ramsey (William "Bill"), Yuma, AZ, his niece Alison Ramsey Rutherfurd, grand nephews Calum and Levi Rutherfurd, Sebastopol, CA , brother in law and partner, Don Beaujean, Sena Biruchenko, Willow, AK, nephew, Bristol Beaujean and family, and nieces Brittany and Grace Beaujean, Anchorage, AK, and former wife, Adrienne Collins, Melbourne, FL.
Bob's love of family, quick wit and sense of honor and duty will be remembered by those whose lives he touched. Military honors, services and a celebration of his life will be at Holy Trinity Episcopal Church in Melbourne, September 28 at 11 a.m. In lieu of flowers, please make donations to the American Cancer Society, where Bob was a former board member.

2 entries.
Martha and family, Both Bruce and I are sorry to hear of Bob's passing. He was a wonderful person and we always enjoyed his friendship over the years. He will never be forgotten! Our prayers, thoughts and love for you and the family! XO XO Carolyn and Bruce
Lord, have mercy on the soul of Bob, forgive him his sins and bring him to you side for life eternal. One of the best friends I ever had