Roland Bradford "Brad" Jones, Jr.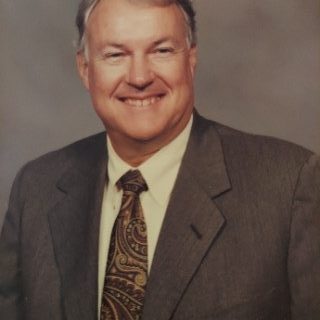 Born February 5, 1937 in Waynesburg, Pennsylvania
Departed February 18, 2022 in Palm Bay, Florida
A Life Well Lived
Roland Bradford "Brad" Jones, Jr. passed from this life to life in glory at home in Palm Bay, Florida on February 18, 2022. Born on February 5, 1937 in Waynesburg, PA the son of a Presbyterian minister, Brad moved to Florida in 1957 a graduate of Waynesburg College the previous year. He was at the right place at the right time when Boeing Airplane Company shortly began expansion to include building both air and land craft for NASA. It was in Melbourne, Florida where he and local beauty Patricia Lee Miller wed at First United Methodist Church downtown where they attended and served in various ministries on and off for 50 years.
With the space boom beginning, Brad and Pat began a whirlwind series of moves as a married couple around the country. They were blessed with daughter Michelle while living in Fort Walton Beach, Florida; son Bradford Jones III in Sault St. Marie, Michigan; and son Charles Jones in Slidell, Louisiana. The family returned to Melbourne in 1965 when Brad participated in recruiting efforts for the historic Project Apollo which landed the first man on the moon in 1969. When the Apollo program ended in 1972, the family moved to Succasunna, New Jersey.
Returning to Melbourne a second time in 1975, Brad – an avid sports fan – coached the local Babe Ruth League 13-15 year old division. He also invested his time with youth as a MYF (Methodist Youth Fellowship) counselor and, in later years, served in the University Park Elementary mentorship program.
After 17 years with Boeing, Brad served at Harris Corporation and retired in 1990 as a Director of Human Resources. A genuine "people person", he began his own consulting business providing job search services in a time when significant lay-offs were common. Not surprisingly, in later years, he served ice cream and hospitality at a local candy and ice cream shop in downtown Melbourne, engaging with locals and tourists alike. He seemed to know someone or someplace no matter where they were from.
Brad's commitment to and love of people was also demonstrated in that he was a long-time member of the "Pairs and Spares" Sunday School class at First United Methodist Church of Melbourne. During that time he taught, he gave, he encouraged and supported people. His connection with God and people was also expressed through his love of music. He sang bass in the chancel choir and attended and supported symphonies and music events throughout his lifetime.
Brad loved playing golf, travelling with family and friends and – in general – just having fun. "In the 50s," he said, "We were too busy having fun to get in trouble." It was fun being around him because he was fun. He delighted grandchildren, great-grandchildren and children of all ages with his humor, his kindness and his generous nature.
He is missed and survived by his wife of 63 years Patricia Miller Jones; brother Robert Jones and sister-in-law Linda Jones; daughter Michelle Jones and partner John Ezell; son Brad Jones III and daughter-in-law Debra Jones; son Charles Jones; grandson Joshua Jones; granddaughter Jessica Jones; great-grandson Tristan Jones; great-granddaughter Serenity Humphreys; and many nieces and nephews.
A memorial service will be held Thursday, March 3, 2022 at 11:00am at First United Methodist Church located at 110 East New Haven, Melbourne, FL. In lieu of flowers donations in his honor may be made to Daily Bread or The Sharing Center.
3 entries.
Brad was great...He took me to the PGA golf tournament when I was young and it changed my life...I am forever a golf lover. Many fond memories of a great man.
Brad was one of my all time favorite co-workers, and a dear friend. I met him while we worked a joyful part time job at Kilwins in Downtown Melbourne. He always had something interesting to talk about, we would chat during our entire shift. I was always excited when he was the one working during my shift, and I believe all of our customers enjoyed his presence as much as I did. Brad would make us laugh, make us feel loved, and also motivate us. He personally helped me with my resume and provided many interview/application tips for career growth in my full time jobs. He shared stories about his career, about his family, about where he was from, about sports, and most importantly about God, faith, and the church. Brad greeted everyone with a smile, and treated everyone like they were the most special person on this earth (as they are). I am so grateful to have known him, and I regret not keeping in touch over the years. Even though it has been years since I spoke with him, I know he was likely busy talking with others and sharing the good news of Jesus. May he rest in paradise, I know he certainly earned his spot in heaven. To his dear family, who he truly adored - What a great man we have lost. My prayers and thoughts are with you during this difficult time. I pray that memories bring you peace and joy. We will see him again due to the love and lessons he provided us. I was made aware of his passing while reading the obituary of another dear friend of mine, who we are celebrating the life of also on March 3rd at 11 AM. I wish I could be there to celebrate Brad's life as well, with you all. He certainly was someone I will never forget. With Deepest Sympathy, Liz (German) Manley
Brad was a very special friend at our Methodist Church. He was so nice to me and always gave me the best hug ever. I will miss Brad very much. Brad is healed like my daughter is healed in Heaven. My prayers and condolences to his family. The Lord Is My Shepherd. Psalm 23.