Ronald John Roberts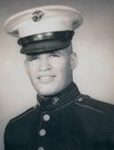 Born on September 21, 1942 in New York, New York
Departed in Melbourne, Florida on December 21, 2019
Ronald John Roberts, 77, from Palm Bay, Florida went to his home in heaven on December 21, 2019. He was born September 21, 1942 in New York City to the late Nicholas and Sadye Roberts.
He spent his early years in New York City until the family moved to Parlin, NJ. He raised his family in Washington, NJ later moved to Phillipsburg, NJ, and then finally to Palm Bay in 2010. He is a veteran of the Vietnam War, having served with the United States Marine Corp, Third Division. He is retired from Lockheed Electronics, where he was a machinist in the aerospace program.
He will be greatly missed by his family and friends. He leaves behind his loving wife of 57 years, Elaine, daughter Janine (Don) Maupin of Palm Bay, FL, brother Steven Roberts of Phillipsburg, NJ, granddaughter's Jill (Jeremy) Todd, Susan (Adam) De Robbio, Rebecca Maupin, April McClain, Sarah Maupin, Christine (Jeremiah) Johnson, and 3 great-granddaughters. He is preceded in death by his son, Alan Roberts, and his brother William Roberts.
He loved his family, and took special pride in his daughter and each granddaughter and great-granddaughter. Spending time with his family, especially if it involved fishing from a boat or at the beach, were his favorite times.
A committal service was held on December 26, 2019, at Cape Canaveral National Cemetery, with military honors.