Ronald M. Seiverth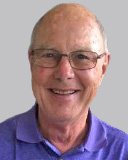 Born in Bedford, Ohio on January 30, 1944
Departed in Palm Bay, Florida on January 15, 2019
Ronald M. Seiverth, 74, of Melbourne Beach passed away on Tuesday January 15, 2019. He was a Native of Bedford, OH and a graduate of Ohio University with a BS and a Masters in finance, moving here in 1980 from Bloomingdale, IL. He was a veteran of the US Navy and retired as a Software Engineer for Harris in Melbourne.
Ron was one-of-a-kind. He was a loving husband, father, grandfather, brother, uncle, and a friend to all. He loved talking to anyone he met on the street, on the beach, in the mountains, on his travels, and even in the grocery store. He had a sparkle in his eye, a love for life, and a kind heart. Ron met his wife, Barbara, at Ohio University. He was a member of the Sigma Alpha Epsilon fraternity, had great times and met life-long friends. Ron and Barbara married in 1968, had daughter Kristie in 1971, and son Jeff in 1974. He enjoyed traveling with Barbara, his children, his family, and his friends. After retirement, he and Barbara spent their summers at their cabin in West Jefferson, NC. Meeting new friends there, they went to wine dinners, golfed, and frequently took scenic drives on the Blue Ridge Parkway. Barbara's dream was to attend all four tennis grand slam tournaments – the US, Australian, French Opens and Wimbledon – and Ron made that happen for her. They also traveled to Italy, Switzerland, Germany, New Zealand, Hong Kong, and numerous US National Parks, including their favorite one, Glacier. Their last trip together in July was for their 50th anniversary and they went on a Scandinavian cruise, as well as to Romania, the homeland of Ron's ancestors.
Photography was his greatest passion. He did it mostly for fun, but he won many awards through the camera clubs he belonged to. He had/has some his best work showcased in a gallery in West Jefferson, NC. He loved the beach, and the mountains. Walking was one of his daily activities and he also liked biking and playing pickle ball. When his children were younger, he helped coach their baseball and softball teams, and taught them the value of a dollar. He loved spending time with his five grandchildren and he was always interested in what they were doing. He would read books to them, swim, fish, build Legos and sandcastles, and fly kites with them. He attended many of their theater productions, award ceremonies, football games, and religious ceremonies over the years. He got along so well with all of his neighbors in River's Edge, many of whom he became good friends with through the years. He was dedicated to his career at Harris for over 30 years and enjoyed it with his co-workers and friends he made along the way.
If you knew Ron, he made an impact on you in some way. That is the kind of man he was – always helping people out and always looking out for a person's best interest. He left us a whole bunch of love and a lifetime of memories. We lost his presence here on Earth, but he will live on in heaven as a thoughtful, funny, amazing angel.
Survivors include his wife of 50 years, Barbara, son Jeffrey (Jennifer), daughter Kristie (Ricky) Touchstone, and grandchildren Savannah, Maddie, Adam, Abby, and Andrew. A Memorial Service will be held on Saturday February 2nd at 11am in the First United Methodist Church of Melbourne.
Anyone wishing to make an expression of sympathy is asked to consider a donation in his memory to the William Childs Hospice House.
4 entries.
So many fond memories with you and your family. What a great Dad. My prayers are with you.
Worked with Ron and found him to be thoughtful and interested in those around him. Great engineer and thorough in all he did.
I enjoyed the privilege of being a friend and colleague of Ron's for over 25 years at Harris. We were team-mates on many projects, he'd greet me in the morning with a smile and "Hey, Dicky Database" to which I'd reply "Hey, Rumblin' Ron". It's often been said about a person that if you don't like him or her, you should perhaps take a look at yourself. Ron was the role model for that person, a lovely man who everybody liked, who always had an upbeat attitude, and never an unkind word about anyone. Rumble on, Ron... -Richard Whitmore
Happy Tears! Follow this link to make a donation to the William Childs Hospice House: https://hf.org/ways_to_help/donate.cfm