Ronald Steine Wolfe
Ronald Steine Wolfe, age 58, of Melbourne, FL., suddenly passed away and entered into the eternal Kingdom of God on Sunday evening, June 12, 2022.
Born June 5, 1964 in Orlando, FL., To Richard A. Wolfe and Joyce C. Wolfe. As a child, Ron's personal relationship with Jesus began and was cultivated as his family faithfully attended Calvary Assembly of God in Winter Park, FL. Ron was a 1982 graduate of William R. Boone High school and a 1989 graduate of Emmanuel College where he earned a Bachelor's degree in Bible and Theology.
On May 5, 1990, Ron married Debbie Burcham of Pulaski, VA. Settling in Lake Mary, FL., Ron and Deb were founding members of Church in the Son – Orlando, Fl.
Ron moved Deb and their infant son, to Melbourne, Fl., when he was chosen to help open a new Computer City superstore location. Moving on from Computer City, Ron began a job with Intersil (Harris Semiconductor) as a technician/Asset Administrator and during 97, he fulfilled a special contract with Northrop Grumman.
Ron became a Technical Author for Sea Ray Boats (Sykes Creek). Developing and maintaining owner Manuals as well as, developing stat tracking and reporting databases. Most notably, Ron was awarded the 2007 Employee of the Year for cost reductions.
Next, Ron became a Business Systems/Help Desk Analyst with Harris. During his employ with Harris /L3Harris, he received numerous accolades and certificates for his efforts and contributions. Notably, in 2019, Ron received a Certificate of Excellence – thanking him for his contribution in support of the 50,000 L3Harris employees – your dedication and unwavering support were critical to our success.
God, family and Gators!
Ron, Deb and sons Austin and Cameron, have attended Freedom Christian Center since 1994. Ron served in various ministries at FCC to include, Media, Praise and Worship, teaching, serving on prophetic team, security team, and Armor bearer for Pastor Tim Franklin.
A lover of God and His word, Ron had a vast understanding of the Word of God and
was always available to clarify or provide insight to any questions one may have about God, His Word or a situation in which they may need Godly counsel. We will greatly miss his wise counsel.
If not at church or work, Ron would be with Family. Participating in activities from little league baseball and soccer, Scouts as an assistant scout leader (troop 337), Eau Gallie High School band (Mule) EGHS football games, attending band competitions, fishing, to watching a shared interest television show like forged in fire or NCIS, even romance/hallmark movies with Deb. Ron was so very proud of his sons, attending several Naval Ceremonies/Events for both Austin and Cameron who both currently serve honorably in the United States Navy.
Ron and family spent their vacation time traveling to visit their extended family in both North Carolina and Virginia. In 2019, Ron and Austin enjoyed a cross country trip together; stopping to visit family in Oklahoma City and Kansas City, KS.
An avid university of Florida Gator Sports fan, Ron and family had the opportunity to enjoy several football games at The Swamp, a few UF baseball games, and if not in person, would never missed an opportunity to enjoy a UF sports broadcast. Ron proudly wore gator attire, and outside of church or work, would seldom be seen without a gator hat on his head.
Last month, Ron and Debbie celebrated 32 blessed years of marriage. Ron surprised Debbie with wonderful weekend trip to Amelia Island. Debbie is so thankful for that special time spent with Ron.
Preceded in death by his beloved Mother, Joyce C. Wolfe, Ron is survived by his loving family, wife Debbie and Sons Austin and Cameron; Father Richard A. Wolfe of Asheville, NC.; Brother Rick (Amy) Wolfe of Marshall, NC.; Mother in law Dru Burcham of Draper, VA.; Brother in law, Greg (Julie) Burcham of Wilmington, NC. Loving nieces and nephews, Kendra(Patrick) Kelly of Marshall, NC., Diana(Dan) Brown of Kansas City, KS., Nicole Wolfe of Marshall, NC., Ayden Burcham of Wilmington,NC. Also, 2 great nieces and 3 great nephews. Special Aunt, Joyce A. Ayers of Oklahoma City, OK. and family.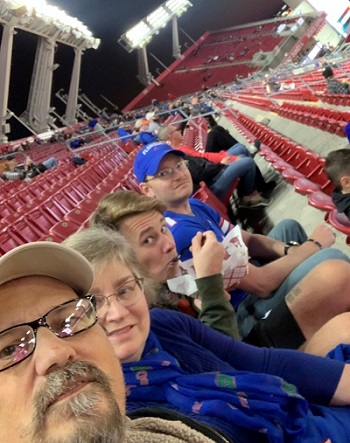 A Celebration of Life will be held Saturday, June 25, 2022 at Freedom Christian Center, 7250 Lake Andrew Drive. Viera, FL.
Ron had a heart for Missions. In lieu of flowers, kindly consider giving to our church missions fund using House of Freedom
Click on "Give Online"

12 entries.
Ron was involved in my initial interview process at Harris and I had the pleasure of working with him some for my first couple of years. He and I always had a little bond because of our Virginia ties (I grew up in the New River Valley). We often joked during football season because the Gators were typically a lot better than my beloved Hokies. Thanks for the memories, Ron. You will be missed.
I served at FCC with Debbie and Ron during my young adult years and when my family separated and my Mom moved to Ohio, I found myself taking the bus to work. Ron and Debbie gave their Geo Metro to me, which meant that I could not only get safely where i needed to go, but also take my keyboard to Youth Group and continue to serve as a Youth group Worship Leader. Their kindness and friendship has meant more than I can express. They were part of my rebuilding my life. Thank you for all that you are and for choosing to help me.
Ron interviewed me as well as trained me when I started at Harris. We had a friendly wager one year when UF played FSU, so I had to display a Gators screensaver for the week following their victory. I have had to call Ron over the years fairly often for system outages, sometimes in the middle of the night. When it wasn't horribly late, I'd tell him, "Better now than at 3:00 am." No matter the hour, I always got an answer. Sometimes a sleepy one, but always both friendly and professional. We'll miss you, Ron. See you later.
I worked with Ron for many years and will miss him both professionally and personally. Professionally because of his soft spoken answers to any work question, willingness to help, gracious team spirit, and ready chuckle. Personally because of our many excited conversations about "our" Florida Gators (rejoicing, rebuilding, recruiting, through good seasons and not so good), the proud stories he shared about his sons and happiness over their successes, and in everything he did what a deducted family man he was. Rest in peace, Ron. May your family and friends find peace and comfort knowing you are with God.
Dear Wolfe Family, I was terribly sorry to hear about Ron's sudden passing and am so very sorry for your loss. My sincerest condolences go out to you and your family during these tough times. I've had the honor and pleasure of having Ron as my mentor for the past six months. His sense of humor will be missed by all and I'm so lucky that I had the opportunity to work with such a great man. Warmest Regards, Chris Garside
Deb, Austin and Cameron and family there are no words that can truly express our love and adoration for Ron and the family. For over 26 years we have shared a lot of laughter and tears, memories were made in the process of physical and spiritual growth. We are eternally grateful for Ron's love for God and people! Love you always xoxoxooox
Ron has been our neighbor since 2005. He and Deb have been very thoughtful and have helped me as a single mom several times. Whether it was helping me with my daughter or laying floors in my home to tutoring me in my college course. I cannot say how heart broken we am. Our thoughts and prayers are with the Wolfe family during this time. God bless you all. Love Jenn, Jeff, and Meghan
Ron was one of my interviewers when I joined L3Harris in 2011 as a contractor. It was several people all asking questions, some more difficult than others. Before I even knew his last name, I dubbed that group "The Wolf Pack". It was affectionately intended, and we laughed about it over the years. He was one of the kindest, most helpful people I've ever had the pleasure to work with. My heart goes out to his other family and friends. As John already said, know that his L3Harris family will miss him terribly.
My condolences to the family - Just started at L3Harris - It would appear that I would have missed interacting with him - Seemed like he was a nice guy that we could have gone fishing together. Be Well! - the age of Aquarius will bring enlightenment to us all
Ron, thanks for the great NASCAR discussions in the halls and the time taken out of your schedule to go to the races with me. You will surely be missed down here by your family, not just your blood family! I'm blessed to know you are keeping your eye on us, waiting to see us again! GO GATORS!
Ron was a co-worker of mine. He was always service minded and service motivated. His generous nature and kindness was evident in everything he did, or said. He was comforting to know and a blessing to God and me.
Thank you Ron for always sharing the fruits of the spirit daily in your gracious interactions with everyone you came into contact. Whether in person or virtually, Ron's kindness and goodness shone through. We will meet again at "The Swamp" that surely exists in the afterlife. You are and will always be beloved by your extended L3Harris family. God Bless you and your family. Go Gators! Love, John Crosby