Rosanna "Anna" Finaldi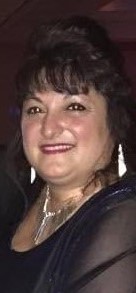 Born on January 26, 1969 in Rochester, New York
Departed on December 17, 2021 in Orlando, Florida
Rosanna "Anna" Finaldi born on January 26, 1969, in Rochester, NY passed away on December 17, 2021, in Orlando, Florida. As a first-generation Italian American, she enjoyed cooking and sharing her food with friends and family. In addition to loving her family, she surrounded herself with many dogs that she rescued and cared for unconditionally. She had a long and successful career working in the airlines industry, which allowed her to travel around the world making amazing memories along the way.
Anna was predeceased by her father, Leonardo Finaldi, and her twin sister, Antonietta Finaldi, she was survived by her mother, Lina Finaldi; younger sister, Lisa Finaldi Simmons; nephews, Joseph Ray Simmons and Leonardo Michael Simmons; niece, Rosalina Sha Simmons; uncle, Antonio Cerrato; aunt and uncle, Filomena and Dino DeGiovine; cousins, Vito Petitti (AnnaMaria), RosaMaria Petitti, Nick DeGiovine (Lisa), Robert DeGiovine (Heather), Linda DeGiovine Rigsby, Tonia DeGiovine Graham (Cliff) and numerous other loving family members here and in Italy.
Viewing will be Wednesday, December 22 from 9:30 am until her Funeral Mass at 10:00 am at St. Joseph Catholic Church, 5330 Babcock St., NE, Palm Bay.
14 entries.
Sad day indeed when I received the news that you had left this earth Anna. You will be missed greatly by many-many friends and loved ones. I will always cherish the great memories of working and hanging out together during the SuperX/Florida Choice days. A lot of great and fun times we all had before we started heading our separate ways. Rest In Peace my friend.
Lisa- I'm keeping you and your mom in my prayers and thoughts. I'm very sorry to hear that you lost both your sisters recently. Take care.
There is nothing I can say right now that would ease your pain and heartbreak. All I can offer is this simple reminder to hold onto the memories…Rosanna may be gone, but those memories will last forever. I will never forget all the talks we shared about football and the trip we were planning to Italy. Rest peacefully in heaven my friend "Ciao"
To one of my best friends since you were 18 & I was 22, Rosanna, my Palm Bay High Pirate alumni class of '87(her & Tonia) & class of '83(me) or (Aina, as her twin sister Tonia & I called her) my beautiful Italian/American friend who I met traveling with our training team from Super X/Florida Choice Food & Drug/Gooding's days in 1987, gone too soon. May you Rest In Peace, as we never got to Italy together, but we did get to Pittsburgh, PA & the sea escape cruise & the Melbourne Beach Hilton & Holiday Inn as you dressed up one night wearing a belt, and I was just dressed casual, lol. So many football watch parties, delicious meals together, & good times at chilis together. My baby girl Sarah was born the day after your birthdays on 1/27, and you'll never let me forget I should have had her a day earlier. My laughter, Patriot & fantasy football friend, even though I loved the Steelers, late night phone call cheer me up, feed me sister. Merry 1st Christmas blessings in heaven, I love you & will see you & Tonia in heaven one day, I miss you so much, but you've gone home to your final resting place joining your twin sister Tonia & your daddy & I will never forget you, my prayers & thoughts are uplifted for your dear mama Lina, sister Lisa, & her children & Your Zia & family, please don't worry about your 5 doggies, Jimmee or me, you're our guardian angel now🙏🏻😍🇲🇽🌷😇💪😎🎄💚❤️🎁🥰
We worked together for a long time. She loved and talked of her family always and her nephews. I will miss Rosanna's soups...especially her wedding soup and her love of dogs. On more than one occasion she pet sat for me in a pinch. She had a good heart. She will be missed
Rest in heaven my dear friend, you will be sadly missed. Give Tonia a hug for me. Love you forever!
On behalf of St. Joseph family of faith, we lift the family of Rosanna up in prayer at her going home to the Lord. May perpetual light shine upon Rosanna, May she rest in Peace and God's Loving mercy. Dcn. Gary
Rosanna was one of my Continental daughters. I loved her and will miss her terribly. I will miss her calls all hours of the night. She left this world much to young. She was a giver and caretaker for so many including me. I'm glad I knew her and loved our time working on projects for the airline employees. She blessed me this year with an American/Italian flag which flies at my home. I will continue to pray for her soul and pray for her families hearts which I know are breaking. You are once again with you twin sister. God bless you sweet girl. I have so many memories of our friendship
What a wonderful women we lost. She made everyone feel like her best friend. God gained another Angel when she left this earth. We are praying for the entire family.
Rosanna was a good, kind, loving person. I truly enjoyed working with her at Continental Airlines. We laughed a lot and cried a little when one of her dogs passed away. She will be missed.
Lisa, I am so sorry to learn of your beautiful sister's passing. Please know I am holding you and your mother in prayer. May memories of your sisters comfort you.
Anna is and always will be a good friend and sister in Christ Jesus. She has been one of my Angels since1986. May GOD keep her and bless her forever. GLYASDI
I will always remember how much me laughed together. My wonderful friend.