Rosemarie Bernardi Hathaway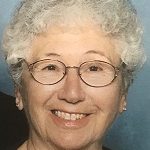 Born on July 13, 1927 in Medford, Massachusetts
Departed in Palm Bay, Florida on February 3, 2020
Rosemarie Hathaway, 92 of Barefoot Bay, Florida passed away peacefully on Feb 3, 2020 surrounded by her loving family. Rosemarie was born in Medford, Ma in 1927 to John and Rose (Cavagnaro) Bernardi. She is survived by her daughter Jane Swanda(Wells), son Robert Hathaway(Doris), sister Janet D'Entremont, six grandchildren, seven great grandchildren and many nieces and nephews. She is predeceased by her husband Millard, son Paul and sisters Olga Asaro and Audrey Hogan
Rosemarie was a good wife and mother. She was loved by many especially her family. One of her greatest joys was spending time with her grandchildren and great grandchildren who knew her as Mimi. She had a great curiosity for life and joined her husband, family and friends on many fun adventures throughout her long, full life. Being a devout Catholic, she was also eagerly anticipating what was to come.
Rosemarie lived in Williamsburg, Ma for many years. A celebration of life will be held later in Massachusetts at the convenience of the family. In lieu of flowers please send donations to William Childs Hospice House in Palm Bay, Florida. A random act of kindness with Rosemarie in mind would honor the way she lived her life.

12 entries.
Jane and Wells. We are sorry to hear about the loss of your mom. She was a character, just like you Jane! You took good care of her and should be proud of that. She is in a good place now, with your Dad. ❤️❤️❤️Maureen and Maura
I am sorry for your loss. She was a wonderful person and a good friend.
I am so sorry for your loss, I have many fond memories of being her neighbor when I was a child ?
Jane, we are so sorry to hear this news. We wish you peace.
I am very sorry for your loss, Jane. My recollection of your mom is that she made good Italian soup when you were sick. A devout mama.
My condolences to all of you. She was such a great spirit. I loved her laugh, and her strong presence. She had a good life!
She is resting in peace. our prayers and condolences to you and your family.love you
So many memories of Roe! May she Rest In Peace reunited in heaven with Millard and Paul! Fond times working at Burgy PO with Butch and having her coming in telling jokes or teasing! Lots of laughs! Love to all
So sorry for your loss. Rosemarie was an active participant at the Williamsburg Senior Center, and she will be missed. All our best wishes to the family.
Dear Jane, and family. I am so sorry to hear this news. Your mother was a fun loving woman, who I was lucky enough to know from being added to her bowling team many years ago. We shared many a good laugh every week, and as you know, it was at her insistence that we met. I'm sure that it has been very difficult for you, and my prayers and thoughts are with you now. I love you.....
Jane and Wells and family. Sending our prayers and Love at this sad time.
Remembering Ro....from many years ago. Friend of my parents...Honored to know you and your family. Donna