Sallie J. Fleck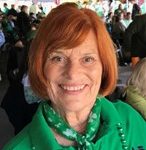 Born on September 22, 1944 in Norfolk, Virginia
Departed in Melbourne, Florida on January 15, 2020
Sallie Juanita Fleck, 75, of Melbourne Beach, FL passed away the night of January 15, 2020. She walked through the gates of Heaven with her mother, Marie Frances Anderson, 100, who left this world 9 hours later.
Sallie was born in Norfolk, Virginia on September 22, 1944 to parents Herman and Marie Anderson. She was raised in the Catholic Church and developed a strong sense of faith and devotion, shown in her dedication to the Church and many years guiding children through religious education.
Sallie spent her childhood in Virginia with her two sisters, Allene and Betty. They could often be found singing and dancing together, always laughing and smiling. Just last year, they were spotted on the dance floor together at their mother's 100-year birthday celebration.
'When Harry met Sallie,' they were not on a movie set. It was a real life love story. They began their journey in Maryland. They moved to Ohio after Harry finished law school and eventually relocated to Melbourne Beach, Florida, with Harris Corporation Legal Department in 1978. Harry and Sallie celebrated their 49th wedding anniversary in December. Harry's love and commitment to Sallie, 'in sickness and in health', were displayed in his actions, as he rarely left Sallie's bedside during her 56 days in the hospital.
Sallie was a very social person with many great friends. She was a dog lover who enjoyed playing tennis, traveling with family, reading a good book, following politics, gazing at sunsets on the dock, and watching Notre Dame sports. Sallie's biggest joy in life was her family. She was a protective, loving, and completely selfless mother. She was absolutely delighted to be a grandmother and enjoyed every moment she spent with the grandchildren. Sallie will always be remembered for her strength, love, compassion, spirit, and beautiful smile.
Sallie is survived by her husband, Harry Martin Fleck, her three children: Julie Marie Fleck (Jeffrey Budd) of Viera, FL, Brian Martin Fleck (Cece) of Jacksonville, FL, Michael Timothy Fleck (Rachel) of Annandale, VA, and eight grandchildren: Jaden, Jonah, Jaxon, Kian, Desmond, Ronan, Fiona, and Olivia. Sallie will be deeply missed and never forgotten.
Calling hour will be Saturday February 1st from 10am to 11am in the Immaculate Conception Church hall in Melbourne Beach, FL followed by a Funeral Mass in the Church at 11am.
In lieu of flowers, donations may be made to The Leukemia & Lymphoma Society.

17 entries.
Julie , Harry and all, please know that you are in our thoughts and prayers. We send our sincere sympathy at the loss of your vibrant and loving mom and wife! Julie and the entire Fleck family welcomed my sister Meg into their home as one of their own when she was on breaks from ND. We will never forget the kindness shown to myself, my mother and my sisters when we suddenly lost my father. We believe that Sallie was met and welcomed into heavenly paradise by our mother who passed just over a year ago. May you find comfort in knowing Sallie was loved by so many!
We are all very saddened by the loss of our beloved Aunt/Great-Aunt. Not only was she our relative, but remembered as a loving woman we always considered a dear friend. Sally, lit up any room she entered, with her beautiful smile and infectious laughter. We have many fond memories of our visits with Sally and family that we will cherish for a lifetime! I am blessed to have been graced by her inner and outer beauty. She will always be remembered as a loving Aunt, friend, Grandmother, Sister, Daughter and Wife. We are lucky to have gained another beautiful angel in heaven to watch over us. With enduring love, from all of us! Until we meet again... God bless you Sally. Xo
I consider myself very lucky to have known Sallie. She was the kindest and warmest friend. We traveled and socialized together and had such fun. I will always miss Sallie with the beautiful smile. ❤️
Jackie and I extend our condolences to Harry and her children and grandchildren. She will be greatly missed especially at our monthly gathering at POP. She was just so much fun and had a great perspective on life.
We are so sorry to hear of Sallie's passing. She was a wonderful and caring person and friend. She will be thought of so often and greatly missed. Sallie's friendship was a blessing and I am thankful for the many great memories I will have. Our deepest and sincere sympathy. Vincent and Maria Taranto
Though our words can do little, we hope our thoughts and prayers are will support you and the family at this time.
A loving friend who I will dearly! My heart is very heavy at this loss. May we meet again in heaven Sallie. Mary Kay
I was very sad to hear of the passing of Mrs. Fleck. Growing up, I was always at the Fleck home. Mrs. Fleck was a genuine treasure and always had a smile on her face. My sincere condolences go out to Harry, Julie, Brian, Michael, and the rest of the Fleck family. May she rest in peace.
Dear Harry and children By real and painful experience I know there are no words to say for the loss of your beloved Sallie. We had many great times together, which I will always remember. May God bring healing into your hearts, quietly like the dawn.
We are all broken hearted at losing Sallie. She was such a caring, loving, friend who was so much fun to be around. We have so many happy memories of our times together that we will cherish. Sallie will be so missed by all of us. John and Elaine Criscione
Harry, Julie, Brian, Michael and family, our deepest condolences. Sallie was an extraordinary woman who deeply loved her family and friends. Her smile and laughter were infectious and her kindness boundless. Remembering you and Sallie, today and always. Glen and Mary
Dear Harry and Children, My sincerest condolences on the passing of Sallie. You know she is dancing in Heaven with her Mom!! Such a beautiful person and God loving woman. May your sweet memories bring you smiles and loving remembrances. ?????
Our deepest condolences to Harry, children and all of family. Truly sorry for your loss. Sallie will be missed, one of Gods Angels.
I was so sorry to hear this. My deepest condolences to Harry and the rest of the Fleck family.
Tom and I offer our sympathies to Harry, Mike, Julie, and Brian. Rest in peace Sallie. Monica and Tom Cengia
John and I are so sorry and we hope that you will find peace and comfort in your happy memories of Sallie.
We are deeply saddened by Sallie's passing. She was a wonderful person whose warm friendship we will cherish always. Sallie's positive spirit, kindness, and fun-loving and cheerful personality brightened everyone who knew her. Our sincere sympathy and heartfelt condolences to Harry, Julie, Brian, Michael and family during this very difficult time. With love and warmest remembrances, Steve & ZZ