Sara Rebekah Ellis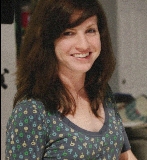 Born in Melbourne, Florida on October 10, 1988.
Departed in The Pisgah National Forest on July 24, 2018
Sara Rebekah Ellis, 29, was born in Melbourne, FL and passed away on July 24, in Pisgah Forest, NC. She worked in Hospitality and Food Service.
Sara loved cooking, gardening, home-improvement projects, and all animals. She taught herself to play guitar and loved to sing. Sara was hilariously witty and always appreciated a good pun. She was kind to everyone. If she knew you were sad, she could make you smile. Sara would always support and encourage you. If you knew her, you loved her. She truly shined God's loving light to everyone she met.
Sara is survived by her father and stepmother, Gregg and Patricia Ellis; twin sister, Rachel Ellis; sisters, Carrie Ellis, Tiffany Coleman; nephews, Holden Tadtapong, Keegan Goings.
She was predeceased by her mother, Jamie Ellis.
A "Celebration of Sara's Life" will be held on Sunday, August 12, at 2:00 pm, at Front Street Civic Center, 2210 Front Street, Melbourne, FL, 32901. Please wear casual cheerful colors, no black.
You can follow up for more on Sara's life and share with others at https://www.facebook.com/sara.smile.760