Scott Edward Callaway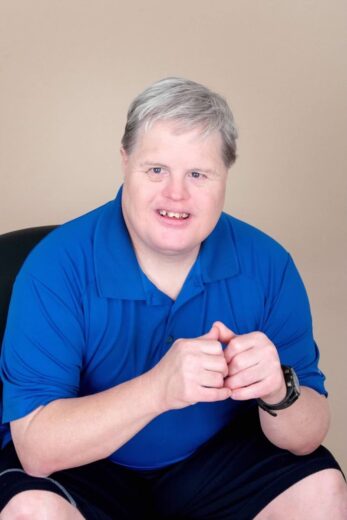 Born on January 21, 1965 in Phoenix, Arizona
Departed October 30, 2022 in Rockledge, Florida
On Sunday, October 30, 2022, Scott Edward Callaway passed into the arms of Jesus peacefully at the age of 57. Scotty was born in Phoenix, Arizona on January 21, 1965.
In 1968, Scotty and his family moved to Melbourne, Florida. He attended South Pine Grove School in Melbourne for exceptional learning. Scotty enjoyed swimming and competed locally and at state levels with the Special Olympics. He later added bowling and track to his competitions. Scotty also loved to play basketball and video games with his nephews Jack, Ross, and Kyle. He enjoyed deep sea fishing with his dad, mom, and brothers. You were sure to catch a fish with Scotty on board, he was our "lucky charm"! Scotty often traveled to the family's home in the Bahamas where he loved to snorkel for shells, dive for conch, and even learned to drive a golf cart with the neighbor's dog, Lucy in tow.
He loved to cook, paint, and color with his sisters and nieces. Scotty was always the life of the party at family gatherings belting out his favorite songs and dancing, always the last to leave the dance floor. Scotty lived life to the fullest surrounded by loved ones and friends. He taught us so much in life: to love unconditionally, to be joyful, to be kind, and to be gentle. He made us and those around him better! There wasn't anything he didn't try to learn and conquer. Scotty you will be forever missed, but your life will live on in our stories of you, until we meet again.
Scotty is survived by his father Gary; brother Michael (Sheri); sister Debbie (Brian) Lightle; sister Meg (Mario) Fernandez and sister-in-law Dawn (Jimmy). His numerous nieces and nephews are Kaylee, Shelby, Jack, Ross, Taylor, Kyle, and Grace. He is preceded in death by his beloved mother Nancy (2008) and brother Jimmy (2018).
A private ceremony will be held November 19, 2022; the family will receive guests at 1 p.m. at the home of Brian and Debbie Lightle. In lieu of flowers the family request donations be made to Down Syndrome Association of Brevard to assist those in our community with Down Syndrome:
Down Syndrome Association of Brevard