Sioux G. Zilaitis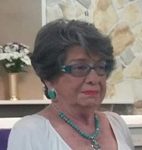 Born in Puxico, Missouri on January 26, 1936
Departed in Rockledge, Florida, on July 2, 2019
Sioux G. Zilaitis, 83, of Indialantic passed away peacefully on Tuesday July 2, 2019. She was a retired government worker moving to Brevard in 1978 from McLean, VA and a member of St Paul Lutheran Church.
Survivors include her son Glen (Nancy) Gray, daughters Lezlie (Michael) Gray and Tamara Gray, grandchildren Yahn and Sven Gray and Jordan Francis, great-grandchildren Ava, Lilly, Theodon and Olivia, brother Russell Barnes and sister Jane Renas and many nieces and nephews.
Calling hours will be on Monday July 8th from 5pm-7pm at the Brownlie-Maxwell Funeral Home. A celebration of life will be held on Tuesday July 9th at 11am in the St Paul Lutheran Church. Donations in her memory may be made to breast cancer research or any veterans association.
2 entries.
Sister Sioux...thanks for all of the advice and interesting stories. You sure had a full life. I will miss you. Much love from sister Jane
Rest in Peace Aunt Sioux. Give a big hug to all of the family members you meet in heaven. I am sure you are in a better place. Till we see each other in the next life. XOXO