Stephen Henry Bils, Jr.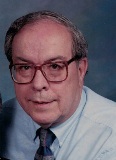 Born Waukegan, Illinois on January 25, 1931.
Departed in West Melbourne, Florida on October 24, 2018
Stephen Henry Bils, Jr. On October 24th Steve was called Home to his Savior. Steve was born in Waukegan, IL and graduated from Northwestern University where he met his wife Clare. They married in New York City and were together until Clare's death in 2008. His career in contracts administration brought him and his family to Satellite Beach in 1976. Steve was employed by Harris Corporation until his retirement. Steve was gifted musician. He put himself through college playing piano in jazz clubs in Chicago. In West Melbourne, he was a church organist and choir director for New Hope Lutheran Church. He was a founding member there and served faithfully for decades.
Although Steve's health had been declining in recent years, he met everyone with his inherent kindness, gentle nature and quick wit. He loved his family and friends and cherished many joyful memories. Steve rested confidently in his unwavering Christian faith and he will be dearly missed by many.
Surviving family members include: Steve's twin sister, Helen Hill of Lisle, IL; brother Charles Bils (Marge) of Madison, WI; brother Richard Bils (Jane) of Scottsdale, AZ; son Rev. Stephen Bils, III (Trudi) of Vancouver, WA; son Peter Bils (Tiffany) of Edina, MN; son Anthony Bils (Kathy) and son John Bils (Kathy) of Satellite Beach. Steve is survived by 11 grandchildren and 6 great grandchildren. In addition to his wife, Steve is predeceased by his sister Marge.
A memorial service will be held at New Hope Lutheran Church in West Melbourne on Saturday, November 24th at 11 a.m. Steve and his family have requested any donations be made to New Hope Lutheran Academy.
3 entries.
Bonnie, children of Bonnie, parents Stephen and Trudi, and entire family...may his blessings anoint you in your time of grief. 💖
Dear John, Kathy and family. We are very sadden about the loss of your Father but he is now celebrating with his Heavenly Father reunited with his wife and rejoicing as he leads a choir of angels. I know you dad will be missed so much especially around the holidays. Praying for you all that God will surround you and comfort you doing this time. You have wonderful family memories with him and that what you can hold on to. Sending our love ❤️