Steven G. Nezol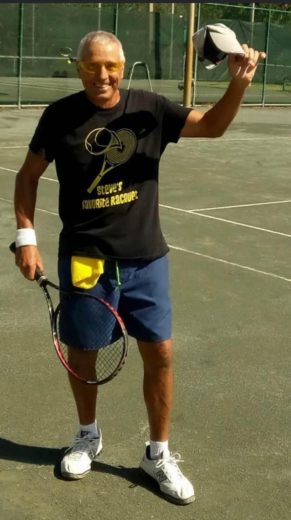 Born December 28, 1947 in Lewiston, Maine
Departed April 4, 2022 in Melbourne, Florida
Steven G. Nezol (74), husband of 51 years to wife Jamie Nezol, father to Peter (Marylyn) Nezol (50) and Jessica Fishel (46) and PiePie to Cameron (20) Collin (20) Coby (19) Matthew (16) and Kennedy (8) passed away the afternoon of April 4, 2022.
He was well loved both at home by family and friends and on the tennis courts by dozens of people. He was funny, smart, compassionate, sensitive, and helpful, but above all that he was heroically strong fighting a battle that would take most to their knees long before it took him down. He will be remembered by his family, for all the silly quirky things he did that didn't always make sense to us, but always made us love him more as we laughed directly at him. He brought life to our family in ways we will always be grateful for and never forget. We feel very lucky that he was able to say goodbye to each person that was special to him before he passed, which is really the best goodbye anyone could ever want. So with that, there will be no formal service and instead we as a family will just honor him together on our own and in our own way.
Thanks for all the love given to him in his last days here on Earth, we know he's playing the best tennis now with a fully restored body that allows him to run and serve the ball and use that backhand to volley on the courts in Heaven. Until we meet again…
19 entries.
Thank you for the past 51 years. I know that God put us together and I will love you forever. Rest easy my love, you deserve it. Until we meet again.
I met Steve 20 years ago at the Fee Avenue courts. I was was captain of the mixed doubles team for a few years. Steve was like the diamond in the rough. He was a great player… switching hands many times to get those backhand balls. Everyone, I mean everyone loved playing with and against him. GREAT TEAM PLAYER. Jokes on the court were non ending. His million dollar smile, great personality, wonderful tennis skills will be missed. He was a loving husband, great daddy and crazy about his grandkids. I have nothing but kind, positive memories of him. His family was blessed to have him in their lives.
Jamie, I was saddened to hear of Steve's passing. I didn't know either of you when I moved to this neighborhood. But, when I first came over to 'check out' my new house, he was the first neighbor to inquisitively ask, "so, where is it"!? (It's at the end of Meadowridge, a little set back from the others). He walked down with me asking, is it this one, no; this one, no; not yet. Finally, we reached the 'house that did/does exist'. As I got to know him better, I realized he had an impish sense of humor ... and could 'tease' a lot. Especially when we talked about 'neighborhood business'. I'm sorry for your loss, as well as your family's; as well as ours. He was a funny, competent, totally nice guy.
My hero. Love and miss you pops.
It is evident that Uncle Steve was such a great family man and a blessing to all who knew him. May the peace of God, that surpasses all understanding, be with Jamie, Pete, Jessica and all the grandkids.
Stevie brought the fun to the court
Prayers for the entire family! Thinking of you all.
Dear Jamie and family So heartbroken to hear of Steve's passing. Diseases are painful to the whole family. He is no longer the one suffering and will watch over you all as you continue to live
Steven was my father -in-law . And still after mine and Pete's divorce I happily remained close to all of the Nezol clan. They will always be family to me!!! Steven to me was a sweet,funny,unique man. Not to mention a loving grandfather to my two boys. Thank you Steven for letting me stay apart of your family. I have been part of the Nezol family for 35 years now. And feel very blessed🙏🏻 I was able to spend sometime with Steven on his last days on this earth. He knew who I was and enjoyed my company. As I thoroughly enjoyed his as his humor continued! He still made me laugh in his last days here on earth . And I will think of him and smile in knowing that he's in heaven now with my dad ♥️ And we will all meet again someday. Rest In Peace Steven and know I will always be here for your family. Happily!!!!!! Lots of love Melissa 💜
From my view, Steve was a leader, organizer and friend to many. He always fought the good fight with a positive disposition; whether on the tennis court, at social gatherings, or against the debilitating challenges of ALS . As a CPA, his accounting acumen relating to beer and pizza expenses for the unwashed horde of Fee Avenue senior tennis players exaggerating their tennis skills at disreputable pizza joints was exceptional. Although Steve's accounting practices were often questioned and occasionally audited (after several pitchers of beer) by the highly regarded participants, no irregularities were ever found. Regarding Steve's tennis acumen, I suggest his fast, fun and decisive "Nezol tiebreaker" as well as the infamous clock face based Nezol frame shot, often simply referred to as a "Nezol" will live on in the annals of Fee Avenue tennis lore. I was blessed to know you. Rest In Peace my friend.
I am going to miss this man. He was such a good husband to his wife, my friend. He was strong, talented and a joy to be around. Jamie loved him like crazy and went along with all the, (sometimes crazy ) ideas that he would come up with. Rest in peace Steve knowing you were so loved and thought of ❤️
A great man that smiled his way to heaven
Even though I wasn't real close to Steve, I will still miss him down at the courts.
I was one of his tennis partners that will always remember our good/bad partner banter that we always did ;-). He was always fun, smiling, no matter how much he was battling his illness. Glad I got to see you a couple of weeks ago. Rest in peace my friend, but please Nezol (some of us called him by his last name) if St. Peter says the ball is out, it's out.
May you hold close in your hearts all of the wonderful memories you made here on earth, and look forward to making many more when you all meet again. We hope you find peace quickly just as we know Steve has. Big hugs and many prayers your way❤.
There is no more pain. His body is free to move in heaven. He will be miss by many. R.I.P., STEVEN.
The obituary said it all so well. The courts will never be the same but his presence will always be with us. Rest in peace my friend.
The memories of our neighbor Steve nezol will live on forever. What a great 20 years !