Susan Chapman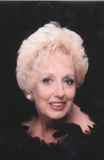 Born in Florence, Kentucky on June 29, 1941
Departed in Melbourne, Florida, on March 31, 2019
Susan Thompson Chapman, 77, of Melbourne peacefully passed on Sunday March 31, 2019. She was a retired Registered Nurse moving to Brevard County in the 80's from South Florida, a Baptist and member of the Red Hat Ladies Society.
Survivors include her husband John, sons Jay Plotkin and Randy Plotkin, daughters Cindy Ewing and Lori Pemberton, grandchildren Jason, Nikki, Stephanie, Caitlyn, Loren, Alexis, Taylor, and 3 great-grandchildren.
Calling hour will be Thursday April 4th from 2pm-3pm with a service at 3pm in the Brownlie & Maxwell Funeral Chapel.
Donations in her name may be made to the Charity of your choice.

5 entries.
I love you and miss you very much Mom you were the glue that held his family together you will be missed by all and you will love by all
Mom, Although we've had our ups and downs recently my love for you will never stop. God has called his next angel home. You will be at peace now with Dad, Nana and Grandpa. Hugs and kisses to all. I love you and will miss you!! Until I see you again.... Rest in Peace....
Mom, I love you so much. I have always tried to make you so proud of me. And I know that you are, and always were. We had our moments of good and our moments of bad. But I always was your baby boy and you could always count on me. From dancing in the living room to cooking in the kitchen, you always taught me valuable lessons. You will forever be in my heart and soul. You are now safely home, with Grandpa and Grandma, and Dad. Readying the home that I too will someday come home to. Rest peacefully and pain free. I love you!
Missing you a whole lot. Not quite sure how to do life without you Memaw. We shall see you again. Love, Alexis, Wilson, and baby Mya
Mom You were my heart and my world❤. You will be dearly missed each and every day. You are in good hands now and please give a big kiss to Dad and Nanna for me.!! You are blessed and have no more suffering. My tears will never stop but I will see you again one day. All my love to you Mom from your baby girl😪