Suzanne W. Kerr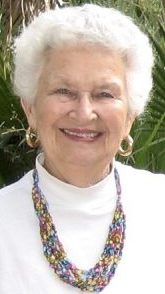 Born in Jackson, Michigan on June27, 1930.
Departed on March 6, 2018 in Melbourne Beach, Florida
Suzanne W. Kerr, of Melbourne Beach, FL, and Kalamazoo, MI, died March 6, 2018 at her Florida home.
Suzanne was preceded in death by her husband, William W. Kerr III, in 1985. She is survived by her children, William W. (Judi) Kerr IV, Alice (Michael) Kemerling and Jonathan (Denice) Kerr; grandchildren William W. (Stacy) Kerr V, J. David (Amanda) Kerr, Katherine (Sterling) McNeill, Claire (Simon) Mikolayczyk, Fritz Kemerling (Catherine Chang), Emily Kerr (Nicholas Keller), and Andrew Kerr (Michelle Eckley); and five great-grandchildren.
Suzanne was creative, funny, kind, determined, and intellectually curious. She made caring, lasting relationships with people she met throughout her life and was an important mentor and role model to many. She taught her children and grandchildren about manners and respect, and in her last couple of decades she embraced technology that allowed her to stay in close contact with her family.
The Brownlie & Maxwell Funeral Service has been entrusted with arrangements and a memorial service will be held at 10am Saturday, March 31 at Life's Oasis Church, 1441 N Harbor City Blvd, Melbourne, FL 32935.
In lieu of flowers, memorial gifts may be made to the Brevard Symphony Orchestra, Humane Society-South Brevard, Gilmore Keyboard Festival or Kalamazoo Institute of Arts.