Terry Durand
Terry W. Durand, 69, passed away peacefully at home on Monday, April 19th 2021 with his wife and daughters by his side.
Terry was born in June of 1951 to Gladston and Jennie Durand in Fort Lauderdale, Florida. He and his family moved to West Melbourne in 1961.
Terry's career accomplishments included earning his Master Electrician License as well as his contractor's license. Terry, better known as Bald Eagle #1 to his co-workers, led commercial and industrial projects at Kennedy Space Center and Cape Canaveral Air Force Station for over 30 years. He worked to support, monitor and restore power during Space Center launches, well-establishing himself as an Electrical Power Coordinator. Terry and his wife also owned and operated Angelic Electric from 1998 till present. Terry worked in the electrical field for over 45 years of his life before retiring in 2018.
His passions included riding his Harley-specifically enjoying parts of the Trail of Tears, gardening with his wife, rehabbing houses and spending time with his family.
Terry was a proud member of the Masonic Lodge of Melbourne and the Calvary Baptist Church in Melbourne. Terry was a lover of God, guns and his country.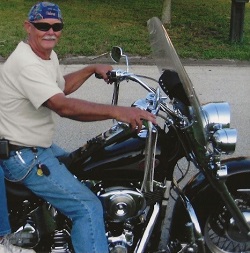 His family includes his wife of 17 years, Diane Durand; step-son, Shane Cox; daughter, Shelly Schopke and her husband Scott; son, Chad Durand; daughter, Carrie Durand; grandchildren, Loryn, Braden, Jackson, Anna and Elliotte; sister, Runelle Florio and her husband Angelo; brother, Randy Durand; brother, Roland Durand and his wife, Tina; brother, Melvin Durand and his wife Linda; nieces and nephews, Stephanie, Keith, Angela, Brian, April, Aubree, Daryl and Samantha. Terry also leaves behind 7 great nieces and nephews as well as many close friends and co-workers.
In lieu of flowers, donations can be made in the name of Terry Durand to:
• Hospice of Health First – Melbourne, 1131 W. New Haven, Fl 32904
• The Pulmonary Fibrosis Foundation, 230 East Ohio Street, Suite 500, Chicago, IL 60611
• Calvary Baptist Church, 2980 N. Wickham Rd. Melbourne FL 32935
"Therefore we are always confident, knowing that, whilst we are at home in the body, we are absent from the Lord: For we walk by faith, not by sight. We are confident, I say, and willing rather to be absent from the body, and to be present with the Lord." 2 Corinthians 6-8

2 entries.
I have known Terry since I was about 12 years old. Grew up on the same street 3 houses apart. Enjoyed playing football after school with Terry some & his brothers, Roland & Daryl. Terry & his wife Diane did some electrical work at my place of business around 2002, Terry had a great personality, was a really good person.
Sorry for your loss. Frank worked with Terry at Boys Electric. He will be missed by many.