Terry F. Bishop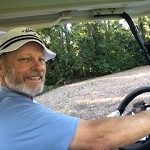 Born on March 16, 1956 in Ft Worth Texas
Departed in West Melbourne, Florida on March 17, 2020
Terry F. Bishop, 64, of West Melbourne, FL passed away on Tuesday March 17, 2020 at his home. He was a native of Ft. Worth, TX and a retired NCO in the US Navy. After the Navy he worked for Northrop Grumman in Melbourne. He was an avid golfer and Dallas Cowboy fan.
Survivors include his wife, Vicki sons Tim (Lucy), Jimmy and Terry F. Bishop, Jr. also a daughter, Virginia Martinez (Jamie), and many grandchildren, as well as a sister, Jamie George.
Services are pending.

28 entries.
I only worked with Terry a short while, but he was great to work with. He will be missed. My hopes and prayers go out you all during this difficult season.
Vicki, I am completely crushed for you. Someone at NG texted me and my husband yelled out "what's wrong" after I reacted to the news. I never connected with Terry via sports because he knew nothing about hockey. I told him to always answer your calls and he would make some kind of caveman response. I have know Terry since he started at NG. I am positive he loved you deeply. He also loved barbecuing, football, Texas, Harley's, horse racing and couldn't wait to talk, to everyone. You and Terry made me feel like family when you moved Danny's guns and coins. He had to lug them in every night. As family does, Terry and I had a falling out, but I know if I needed him all would be forgotten. Hearing that he won't be here on Earth with us brings a deep sadness everyday. If there is anything that Danny and I can do, please let us know. I can still hear his very loud "ha"!
I had the privilege of working with Terry over the past couple years at NG in Melbourne - and even though we worked on different teams within the same program - it was evident that Terry's positive attitude, infectious smile, personality and humor touched every person across our program who had the pleasure to come into contact with him! Whether working through a tough challenge together or just conversing before a meeting, we always knew that Terry was a team player and consummate professional. My sincere condolences to Terry's wife, children, family and closest friends on your profound loss - may you be comforted in your grief by the memories of life and love that you shared with this great man!
I started working with Terry almost 6 years ago when I relocated to FL. He was always there to lend a hand. It has been so much fun working with him over the past several years. All the laughter he brought to us... His laugh was recognizable, and could be heard from far away. I will miss that. I was so broken up about this loss. My heart goes out to his family and his wife Vicki.
It was truly an honor to have known and worked with Terry. Terry was always professional, personal and direct. A true friend who will never be forgotten. I just keep hearing that laugh and am simply stunned to have heard the news today. My heart and prayers go out to Vicki and his family. May God grant you peace and comfort. RIP my friend!
Terry was not only a coworker and mentor but a true friend. His laugh, humor, and friendship will be greatly missed. While he coined me with the office nickname of "Slim", he was known as "The Fashionista" to me. He didn't show up to work once without having his socks and water bottle match his shirt. I'll miss rating him on a daily basis on how well his sock color matched his shirt. I always loved your life stories, talking about horse racing, and playing on the golf course. It was so apparent how much you cared for your entire family, including your wife. I am so blessed to have known you for the past two years. You will always be remembered and dearly missed.
Terry was my dad and even tho we hardly got to talk i love him and will miss him
Proud to have worked closely with Terry over the past few years and over that time, became good friends. He was one of the most hardworking, outgoing teammates I have ever had and was truly blessed to have known him. I miss the daily phone call where we would talk work then poke fun at each other just so I could hear that amazing laugh of his. My thoughts and prayers are with his family, friends and peers as we all mourn the loss of this amazing man. Until we meet again, rest easy TB!!
My sincere condolences to the Bishop Family. Terry will be will be missed beyond measure. Whenever I called Terry, he would always ask me, "Mike why on earth would you admit to being a Buffalo Bills fan?" There would be a few seconds of silence and then we'd both breakout in laughter. I miss that laugh.
Terry - I'm still in shock. You were a great person, mentor, teammate, and teacher. I always enjoyed our times together whether it was in the office or on the golf course. Thank you for sharing all of your wisdom with me (except the Cowboys stuff - Go Giants!)
Terry was always there when I needed him. He guided me when I had any problems and then became a good friend. We would talk for hours while golfing and I always enjoyed my time with him. He was more than a friend and will be missed beyond belief. It was a pleasure to know such a great man and an honor to have him in my life.
I will miss you dearly grandaddy and I know your up in heaven with grandma roro, it happened so fast yet in a shock grandaddy I love you and will miss you dearly, I'm glad we got to spend the time we did together in Texas, even if it wasn't on happy circumstances. I love you so much and you willl be missed dearly
I had the pleasure of getting to work with Terry during his time with NG in Melbourne. Terry was such a positive influence on our entire team and everyone that he interacted with. He always took the time to help others and was a mentor to many. Whenever there was a difficult situation or issue to deal with Terry was always our go to guy. I vividly remember how in any circumstance no matter how challenging or stressful Terry could always brighten the mood with a joke or his unforgettable laugh! I will forever remember and miss Terry but will cherish the opportunity to have gotten to know him and work with him over the last few years.
Terry was a true mentor and friend. He was one of the best men I knew, and was always available to help when you were struggling. Once you were a friend to Terry, you were his friend for life. His humor, knowledge, and friendship will be greatly missed. My condolences to Terry's family, and please know his spirit lives on in ALL of those he touched over the years.
Not a day goes by that you are not in my thoughts. Your sudden passing has shaken me to my core. I still can't wrap my head around it. It was always a pleasure to work with you whether at Harris or NG. You were an amazing friend, teammate and person. The world is a lot less brighter without you in it. My prayers go out to your family. You will be sorely missed both at home and at the office. RIP good friend. It was an honor knowing you.
As I transitioned to my new manager role, Terry was my wing man and subject matter expert in helping me to get up to speed. Terry was truly a great man and asset to the team. I will miss his humor, booming voice, and our daily conversations.
Terry was a good friend who will be deeply missed. Even though I was I was an Army veteran and Redskin fan Terry and I were best of friends. I had the pleasure of meeting Terry a little over a year ago and it was evident he was just a good old boy from Texas who would always shoot you straight. He loved to laugh, tell stories and talk about sports.. and of course mostly golf. What I will miss most is playing golf and the stories of his life. The story that will always make me laugh is: he was about three years old and he was hiding behind a couch playing with a book of matches while his mother took a shower, and figured it was a good idea to light a magazine on fire... next thing he knew the drapes caught fire and he ran! When his mother heard him running down the hall yelling "I'm so sorry" she told his older sister "oh god - go see what he'd done" his sister learned the whole wall was on fire and almost burnt down the house (only the bucket brigade saved the home). In short I don't think he played with matches the remaining 61 years of his life. Most of all, Terry loved his wife and family. He often talked about the future, spending time with Vicki, kids and grandkids. He always loved spending more time with the grandkids. I'll miss you brother, and will never forget you!
We had the pleasure of riding with Terry for about 6 years he was our Riding Brother. We had such great adventures with him, he always had a joke to tell and a smile on his face. We consider ourselves blessed to have been able to call him our friend and we are heartbroken that he is gone. We loved him and will miss him every day.
You will be missed but never forgotten! May you Rest In Peace!
Me, Lucy, and the kids will miss you dearly! This has shaken us down to the core. Don't worry though your grandkids and great grandkids are in good hands. Hasn't a day gone by I haven't thought of you. I'll see you again love you dad!