Terry F. Bishop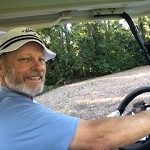 Born on March 16, 1956 in Ft Worth Texas
Departed in West Melbourne, Florida on March 17, 2020
Terry F. Bishop, 64, of West Melbourne, FL passed away on Tuesday March 17, 2020 at his home. He was a native of Ft. Worth, TX and a retired NCO in the US Navy. After the Navy he worked for Northrop Grumman in Melbourne. He was an avid golfer and Dallas Cowboy fan.
Survivors include his wife, Vicki sons Tim (Lucy), Jimmy and Terry F. Bishop, Jr. also a daughter, Virginia Martinez (Jamie), and many grandchildren, as well as a sister, Jamie George.
Services are pending.

28 entries.
My Daddy was a great man. I was his little girl and two of us could find trouble a mile away. When I was little and my mom would send us to the store for bread and we would be gone for hours because we went mudding and still forgot to get the bread. Then going hunting at the dearlease in Texas and bringing me back because I was freezing and falling asleep with teeth chattering. Going fishing, tubing, learning to water ski, and wake boarding at the lakes in Florida. I remember when we went out on the boat and my dad, my little brother TJ, and myself were in this big tub and mom was driving the boat and she gunned it and one by one we flew out of the tub in the air and landing somewhere in the water and the three of us swimming back together and trying to flag mom that she lost her rubbers, that was a hilarious and awesome day. I remember when you taught me to drive stick in the green machine and the first time I filled the car with smoke and burnt rubber and one of your buddies saw it and you guys just laughed. You and mom being their for the birth of Terri and Bryce. Going on runs and motorcycle rides or just talking about whatever. I will having more adventures with you. Daddy I love you and miss you so much. I feel like I have lost a part of myself. I love you Daddy. P.S. I started back at school again and this time I am striving higher for my Master's degree and I am going to make you proud.
Terry was my mentor and guided me as a young security professional. When my father was diagnosed with kidney failure he knew I was having a hard time focusing at work, he would call me to his desk and we would talk with me and make sure I'm doing ok. He would about football with me and we would talk about trades or recent games, and or course he would tell me how "America's team" was going to go all the way. Rest In Peace Terry!
I rode with Terry for almost five years. He was a blast to travel with. Road smart and adventurous. His favorite thing to say to me was "If you're waiting on me, you're going backwards." He and Vicki were a big part of my "family" for that time and I'll always remember him fondly.
Terry was a man to be loved and respected, a great friend and better leader. I am proud to have known him.
Please accept our most sincere condolences. Terry was a guys guy always great to be with, he will sure be missed by many.
Not a day passes without me thinking of all our memories. Hearing the flag, the tbird ride, cutting my umbilical cord, calling for owls, all the amusement parks I couldn't be more happy to be named after you and your granddaughter. Your always in my heart. Don't worry I'll take care of Nana. The girls and home front will be ok and safe. I am a mini you. Rest peacefully. Your girls will be ok. P.S. I have a plan...
To know him was to love him. We miss him so much.
To know him was to love him.