Theodore J. Latonik, III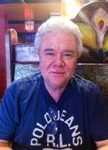 Born in Savannah, Georgia on November 15, 1958
Departed in Orlando, Florida, on June 13, 2019
Theodore J. Latonik, III, 60, of Melbourne, Florida passed away on Thursday June 13, 2019 in Orlando, Florida. He was a Software Engineer moving to Brevard Co. in 1958 from Savannah, GA.
He is survived by his mother Alice Latonik, sisters, Terri Latonik and Tammi (Monte) Foley, a daughter, Amanda Latonik, son, Christopher Latonik an aunt, JoAnn (Dan) Spalding and uncle Joe Riggs as well as nephews, Max Werling and Drew Latonik, a niece, Jordan Duncan and Penelope his beloved poodle.
A memorial Mass will be celebrated on Saturday, June 22nd at 2:00pm in the Ascension Catholic Church
28 entries.
I went to wish Ted a happy birthday today and found out he had passed. So very sad - Ted was always larger than life. He could life a room full of spirits just by being there. I've known him since our time at Volo and he's one of the best people I've ever known. I'm sure he's in heaven right now with a Latina on either arm, making the Lord laugh
My son, my boy, my sunshine..........you died and I died with you. Love you so very much.
Sorry for your loss. Prayers to him and the whole family. I had the privilege to work with Ted in the 80's at Northrop Defense Systems. He was one of the greatest programming minds I every encountered. I could do the work of 10 other programmers, and his personality was larger than life. I remember celebrating New Years one evening at his house in Illinois. He convinced us that we would make $100 dollars for every pinto bean we ate on New Years Eve. LOL. We ate a lot of cans of pinto beans that evening. The "fire drills" in his Rolls Royce were also a great memory. Who else would let you drive their Rolls, but Ted. His never ending fantastic stories, made his so unique. I will say he "LIVED" everyday and that was a pleasure to witness and participate in during his time in Illinois. God Bless.
Great memories of Ted, Joe and Milo in Gainesville!! Ted is an amazing person with incredible talents!! Truly one of the smartest people I've ever met. He was an instant friend to everyone he met and always went out of his way to say a kind word. His sense of humor is unmatched!! I love Ted for the way he loved Joe...and was ALWAYS there for him. Ted's passing hurts sooo very much but that enormous pain can only come from equally enormous LOVE!! Godspeed Ted...our paths will cross in eternity!! Prayers and love for the entire Latonik family.
My brother of 40 years we shared the highest highs and darkest lows . Navigating thru lifes perplexing events. He always strived to be a better man ,father, son and friend. A unique life view and sense of humor made us close. We sang a lot duets .It will be tough going solo. Love Always
Words cannot express the sorrow I feel about Teddy's passing. I mainly knew him as a boy and young man. He was funny, kind, gentle and pretty smart. From all that I have read, he did not change over his lifetime. Remember he is now at peace with no pain. You will meet again some day.
Love always for the Latonik Family from the Mazzara family
My deepest condolences to a wonderfully generous, kind and truly funny man. He never let life get him down and enjoyed every minute until the end. A true inspiration to us all. Posted by: paul bross - Melbourne, FL Jun 19, 2019
More than a talented business partner and friend, Ted was like my brother. Over the 26 years I knew Ted, our relationship endured countless heartaches and struggles; we also celebrated many victories and ate some incredible food. He was there for me through some of the most difficult days of my life, always with kindness, support and a belief that better days where ahead. When times were good, he was right there too, both joining in my happiness and reminding me friends and family are all that really matter in this world. Through his own ups and downs of life, Ted remained the same kind, caring person. I as blessed to have known Ted for so many years and I miss him dearly. Alice, Tammy, Terri, I know the pain of your loss in indescribable. Ted always spoke of each of you with great affection. Because of Ted I was able to spend time your family; thank you all for your gracious hospitality when you welcomed me into your home. I am so sorry and wish you comfort in this time.
I was so sorry to hear of Ted's passing. While I primarily knew him through Terri's older brother, I particularly remember him at our softball games. I also remember his great smile. My deepest sympathies to Terri and his family at this time.
You have been, and you always will be, one of my best friend of my life. You are one of the most extraordinary human being I have had the great honor of having in my life. You have earned my love, and you always be with us... I Love you my friend❤️. Thank you for your presence and for teaching me so much. You will make the sky shine brighter😘😘
I knew Ted from Consulate. He worked for me the past couple of years and I am glad he did. He made my life all around easier and my work life more fun. I remember the last time we went to lunch when he was still healthy. He ordered 3 lunches in Altamonte. I tell people to celebrate Ted by doing just that - ordering 3 lunches. I also remember when he first noticed something was wrong. He was struggling to eat 🙁 I have quite a few "Ted" stories but I will share just one. It has to do with the nickname I had for him. He use to say, "You can't have Theodore without The Odor." He was basically saying The Odor was in his name. So I adopted "The Odor" and "Odor Man" as his nickname. I would call him and say, "How is The Odor." Not implying he smelled but how he was doing in general. I am not sure he ever got it though... Miss him.
How do you even begin to share some of the memories of someone you haves loved all of your life? Even when Teddy was a boy of about 5, he was a sweet kind person. To show you just how sweet he was at 12; he got a mini bike for Christmas. I wrecked it that day, no anger. I know he must have been devastated. We laughed about this recently. He loved and was always there for Uncle Joe. They loved each other like brothers. A few months ago, (my son-in-law suffers from headaches) Teddy took it upon himself to send him an extra pillow that he had gotten in the mail. WOW, if that is not kindness and love, I don't know what is. We were very close and talked weekly. There will definitely be a hole in my heart now that he is gone. I know he is with God in heaven.
I have many fond memories of Ted... he was a wonderful, Kind, smart man that I have known for over forty years. Terri was blessed with the big brother we all wanted. Sending love and prayers to Terri and her family. Rest In Peace sweet Ted...
Our thoughts and prayers are with the family. Traci & Curt Thompson
My memories of Ted all involve Terri. They had a very special relationship. May the many memories offer all of you comfort at this most difficult time. 💝🙏
How to feel blessed, when a heart does not beat with the same rhythm…when the tears drip or flow randomly …sleep is fleeting, dreams are elusive and every waking hour there is pain and loss? How to NOT feel blessed, when Ted Latonik was your family, your friend, your coworker, your neighbor? Every beautiful word that could be spoken, every compliment, every sentiment…no poetry or prose could capture the joy of knowing and loving Teddy. He was the most talented, funny, intelligent, generous, caring and thoughtful person…he was my hero, my protector, my inspiration and the very best person I have ever known…an angel on earth, now an angel in heaven. Until we meet and laugh and sing again, dearest brother, I love you now and forever.
Terri, Tammi, and Alice, I'm so sorry for you loss. Ted was a wonderful son, brother and friend to many. He will be greatly missed. Love to your family ❤️
Teddy was one of the most generous, kind, loving people I have ever had the blessing of knowing. His lovable spirit and good nature always lit up the room and his positive outlook on just about everything showed his true character in all that he said and did. The righteousness he lived on a daily basis was evident in the compassion, love, understanding and acceptance of everyone he knew. The world lost an extraordinary man and his presence will be forever missed. I take comfort in knowing that that based on the way Teddy lived his life, that our Heavenly Father welcomed him home with open arms.
I knew Ted in junior high; we lived in the same neighborhood and I hung out with Terri at their house. Ted was always the cool, older brother, and he played Van Halen for me before anybody knew who they were! Because he had a rock-n-roll heart...he will be missed. Deepest sympathies to the family.