Theodore (Ted) John Kleinschnitz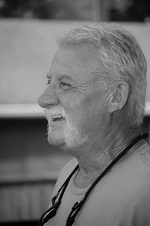 Born on December 8, 1954 in Berea, Ohio.
Departed on August 12, 2020 in Melbourne, Florida
I've loved you all your life. Now I will love you the rest of my life. Be at peace my love, until you reach for my hand, to walk together again.
Theodore (Ted) John Kleinschnitz, 65, unexpectedly and peacefully earned his wings on August 12, 2020 in Melbourne, Florida.
Ted was born December 8, 1954, in Berea, Ohio where his parents, Donald J. Kleinschnitz and Lorine Kleinschnitz soon moved to Melbourne, Florida. Ted was a life-long resident here. Ted and Sarah were married in December of 1993 and together they raised eight children.
For over 40 years, Ted served his community as a successful business owner, who took pride in creating a work environment where employees felt like family. Ted loved working on home projects sharing his talents and crafts with his children and grandchildren. If you ever wanted to find Ted, just take a walk to his workshop and he'd be sitting with a cold Mic Ultra ready to help with any project, or just lend a listening ear and share a cold beer. Ted enjoyed the outdoors; his hobbies included boating, fishing, and a variety of watersports, as long as he shared it with family and friends.
Ted's greatest treasure in life was his family. He was cherished not only as a father, but also enjoyed being loved as a Daddy, Papa, and Pops. Adored the excitement on his grandchildren faces when he would pull chocolate coins from their ears, which they all knew was his magic trick. Ted not only deeply touched the lives of his immediate family, but his love influenced the lives of so many others.
Ted is survived by his father, Donald J. Kleinschnitz, 6 brothers, 3 sisters and his children: Cherity, Jodie (John), Randy (Shannon), Ted Jr., Elizabeth (Shawn), Michelle (Shane), Amanda (Jake), Robert (Amanda Jo), and Brooke (Christian), as well as his grandchildren Shiann, Ciara, Kaitlyn, Abby, Andrew, Lane, Alaina, Reed, Gracelyn, Brayden, Isaiah, Cody, Bailey, Toby, Piper, Mya, Dominic, Andre', Mary, and great grandchildren Coleston, soon to be Paisley, and many nieces and nephews.
He is preceded in death by his grandsons Peyton, and Briddick, grandparents, and his mother Lorine Kleinschnitz.

19 entries.
BIG BRO...WHEN I THINK OF YOU, I REMEMBER AS A KID HANGIN ON YOUR SHIRT AS YOU HUGGED THE FOOTBALL, AND DRUG US AROUND THE YARD. I REMEMBER THE BOTTLEROOM AT PUBLIX AND LATER IN LIFE I REMEMBER THE "TEDFIRE" OUT AT THE CAMP IN THE MARSH. THX FOR THE OPPORTUNITY TO SHARE IN THE BEST OF "YOU".....brother Ted. Till we meet again over knuckle bisquits !!!
You were someone I'll always remember as loving to your brothers and sisters and generous ri their friends. I'll never forget your creations like the motorcycle engine powered trycicle and go kart. RIP Ted.
I will miss you forever brother!!
I miss you big brother. We will be together again when that time come, rest in piece until then.
May the Grandfather take you into his arm's You are missed my friend Until we meet over the river
You and your family are in my prayers love you cuz
It was a pleasure and never a dull moment getting to know and love Ted. He welcome us with open arms into his family. I was honored to be there for him and Sarah as they renewed their vows. Their love was stronger than even they new. My heart and thoughts goes out to you all! Rest in Peace Ted
Ted you were and always will be my favorite Brother in law. You were larger than life only much more. My heart aches at the loss of you. I love you brother
Tho my Heart is broken, I know God has taken you from us to begin your new Journey ......Thank You for always making me feel like Family.....until we meet again, Ted.
Sending my deepest sympathies and love to you and your family Amanda and Jake! ❤️❤️
Rest in Peace Ted. Enjoy many fishing adventures, and many heavenly projects, until you and Sarah join hands and walk together again.
Ted your family and friends will miss you. The spark in Sarah's eyes when she would talk about you at work showed the love she had for you. Rest In Peace Ted 😘
So sorry for your loss our thoughts and prayers are with you and your family.
God Bless you all during this trying time!! Aunt Tennie
We lost a good friend, neighbor and family member. You will be missed.
You will be missed until the day we meet again. I love you Daddy!
Always in ours hearts....Love always